We earn a commission for products purchased through some links in this article.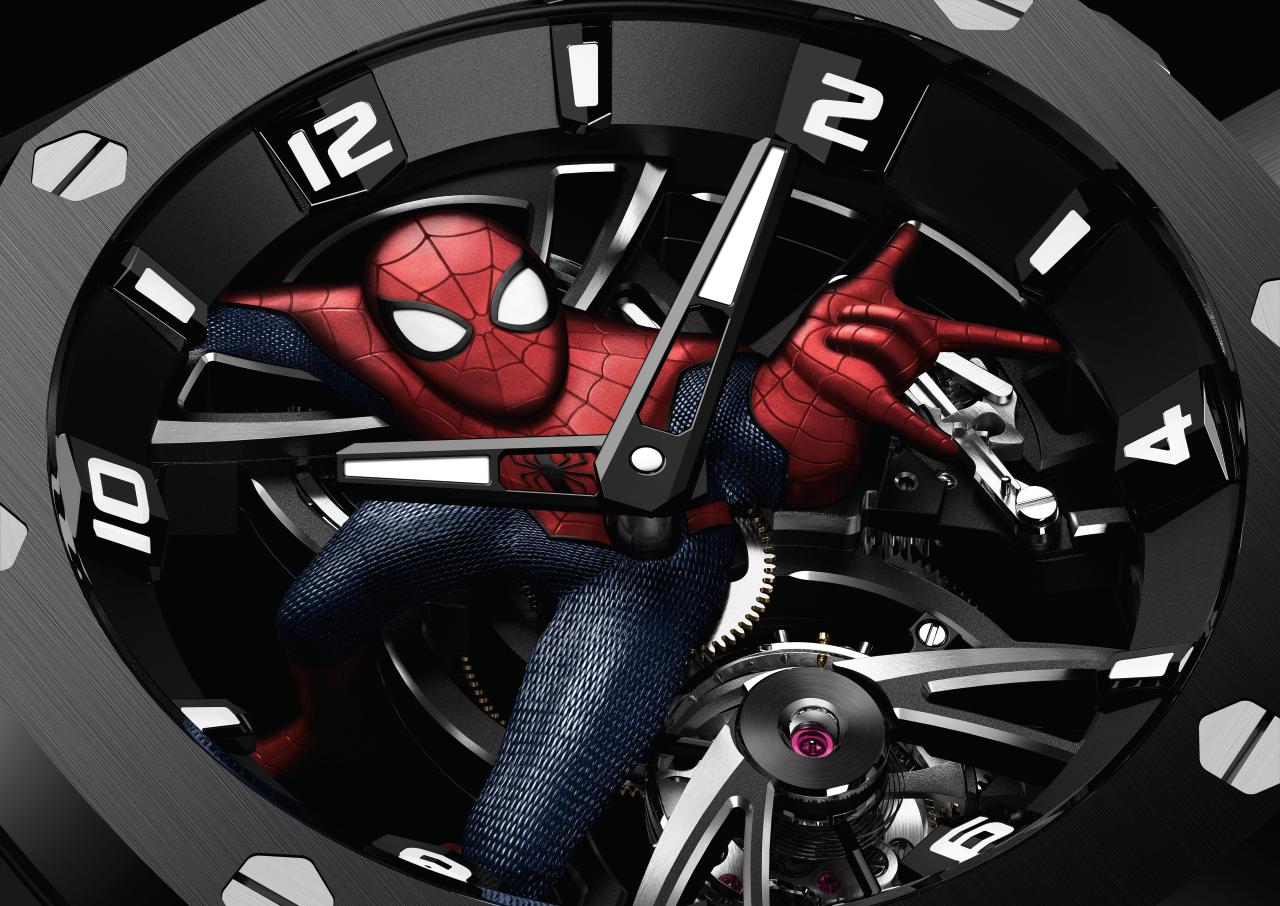 © 2023 Marvel
The luxury watchmaker Audemars Piguet recently released a watch with Spider-Man on the dial. The Royal Oak Concept Tourbillon 'Spider-Man' came in a titanium case with a hand-crafted skeletonised dial and featured the Marvel character laser-engraved from a block of white gold.
It wasn't for everyone.
'Honestly the trashiest thing they've ever made,' wrote ehm1993 on Reddit.
'I wouldn't walk past it if it was lying on the sidewalk,' offered caskey.
The watch was the second in an ongoing collaboration between AP and Marvel, following 2021's Royal Oak Concept 'Black Panther' Flying Tourbillon, which similarly put some people's noses out of joint.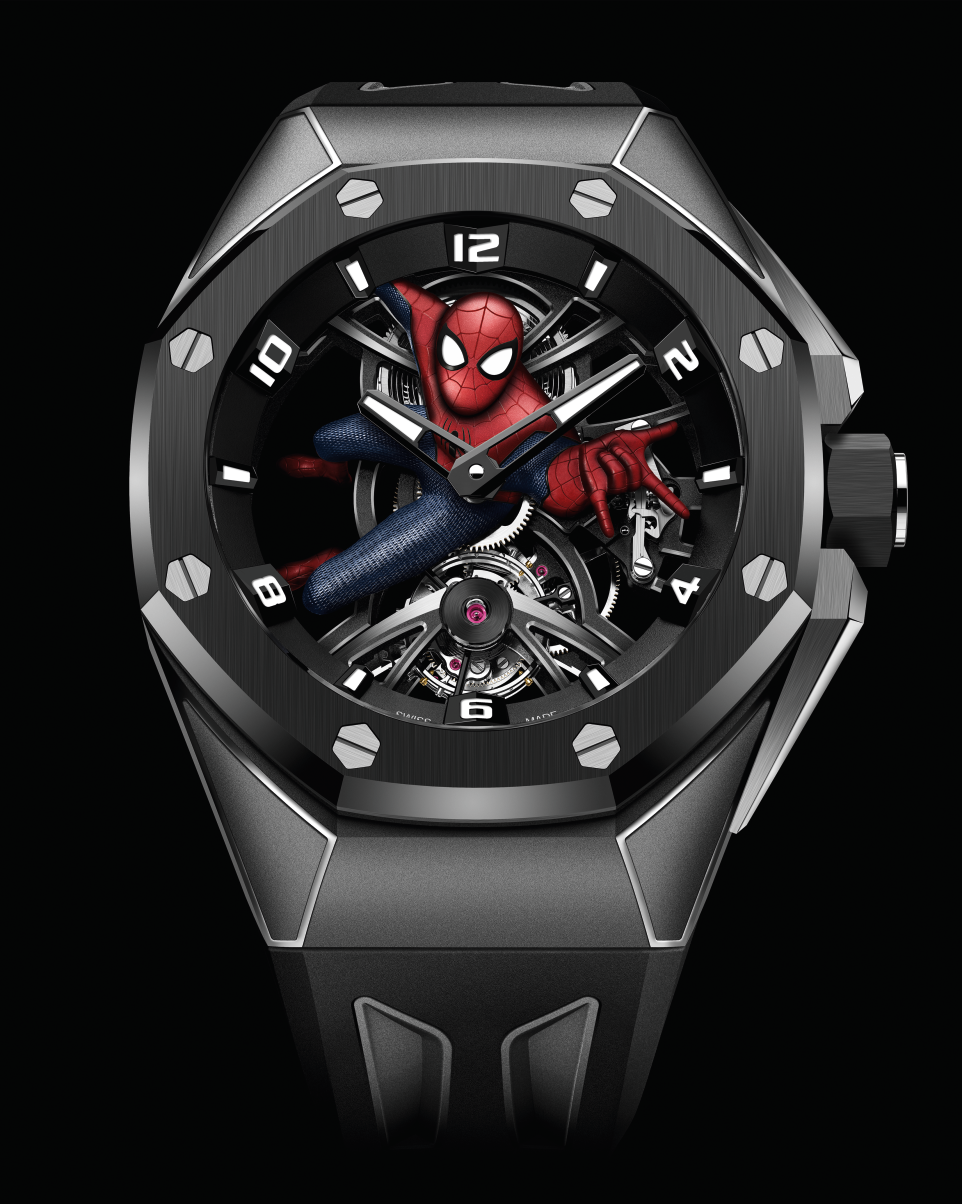 © 2023 Marvel
The problem didn't seem to be the idea – 'character watches' have been taken seriously at least since Gérald Genta, the world's most acclaimed watchmaker, began a series with Disney in 1969, while Oris has had the runaway watch hit of 2023 with its Kermit the Frog model.
The problem seemed to be with the brand.
Audemars Piguet is often referred to as part of the 'holy trinity' of Swiss brand: with Patek Philippe and Vacheron Constantin, regarded for its storied, serious and ultra-high-end watchmaking.
The argument seemed to be that a green Oris Kermit model retailing for £3,700 was good fun. But a white gold Audemars Piguet Spider-Man at £170,000 was not funny at all.
The argument seemed a bit dumb.
Both these watches are luxuries that no one actually needs. But then you can say that about any watch, the entire luxury industry and by extension anything that isn't clear air, water, food, shelter and a necessity to live.
But you've got to be glad they exist.
In an interview with Esquire earlier this year – and perhaps not uncoincidentally the month before his Kermit watch was unveiled – Oris' boss Rolf Studer was emphatic about his brand's vision.
"Our company purpose really is – top line – to make people smile. [Our watches] must make you smile," he said. "And if it doesn't, please do not get it!"
Is this reason enough to spend money on something you don't need?
I think it might be the best reason.
The problem is that it seems initially at odds with the luxury business, which takes itself quite seriously, and particularly the Swiss luxury watch business which takes itself very seriously indeed, reflecting centuries of history and tradition.
But the dictionary definition of luxury is 'an indulgence in something that provides pleasure, satisfaction, or ease'.
We're all familiar with the idea of retail therapy – one study found that 62 per cent of shoppers bought something solely to cheer themselves up. ("Treat yo'self," as Tom Haverford says in Parks and Recreation.)
And also with the idea that this dopamine bump quicky fades: the thrill of buying new clothes is gone after just four wears, according to another survey.
But watches are different. It's why we turn to them, whatever their price, to mark significant life milestones: graduations, engagements, new jobs. Wearing them, looking at them, looking after them – can give you real sustained pleasure in a way that a new pair of trousers just can't.
Sure, spending £170,000 on a white gold Spider-Man watch may not be a sure-fire way to improve your mental wellbeing (it might sound like the exact opposite). But for the right person, that's exactly what it is. A watch designed to make you smile.
And who is anyone to tell anyone else how they should spend their money, anyway?
The 'Spider-Man' and the 'Kermit' might be part of a broader recent trend in luxury watchmaking. Not just of character watches, but of watches designed to be fun – a tonic in an otherwise glum time.
They join Richard Mille's RM 88 Tourbillon Smiley, a tribute to the Smiley face image, the Konstantin Chaykin Wristmons Minions watch, a €13,000 model where the time is read via a Minion's giant rotating eyeballs, and the U1-EC, featuring South Park's Eric Cartman on the dial, in a design that 'brings out the unconventional, strong attitude of the character', according to the uber-hip microbrand Unimatic.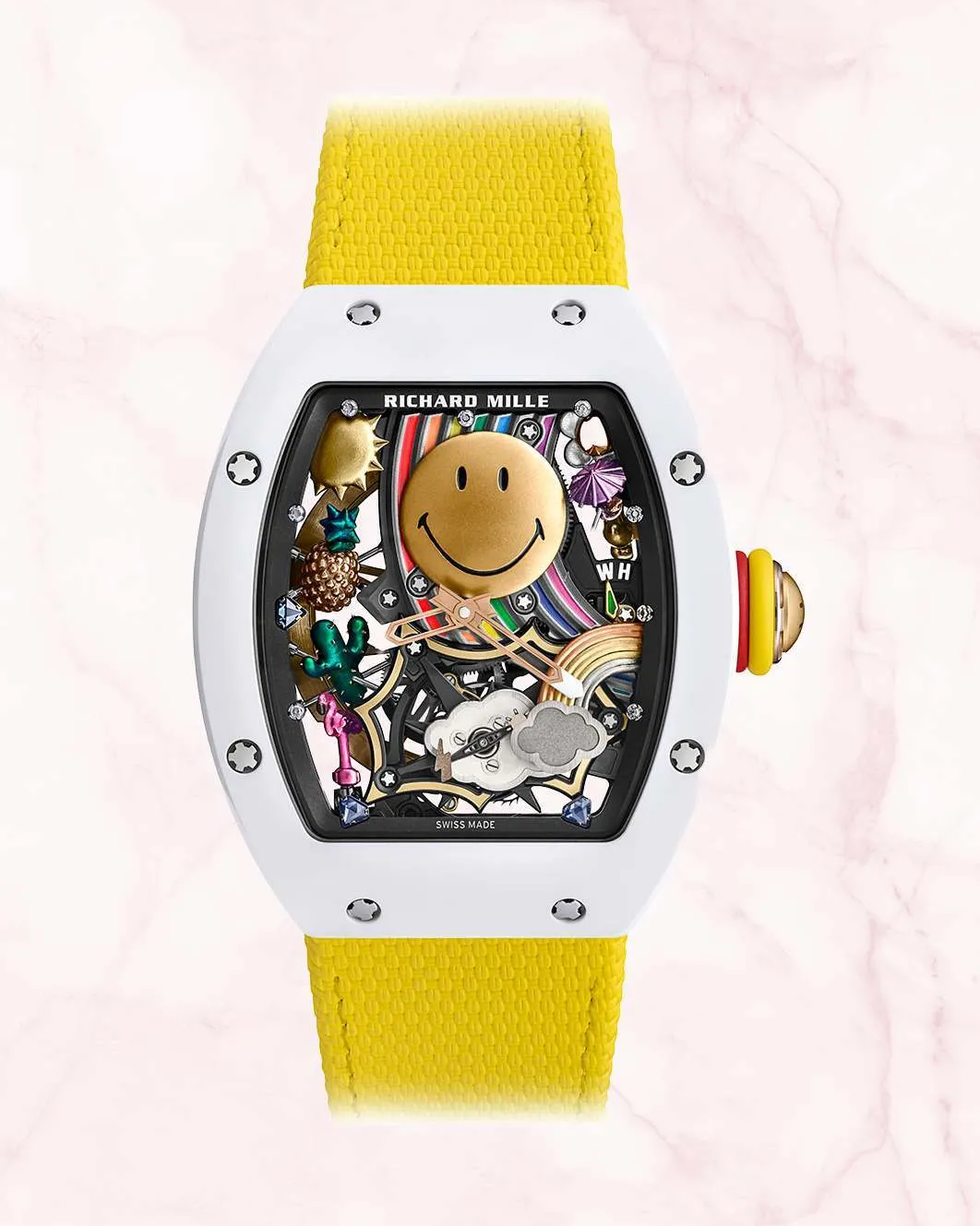 RICHARD MILLE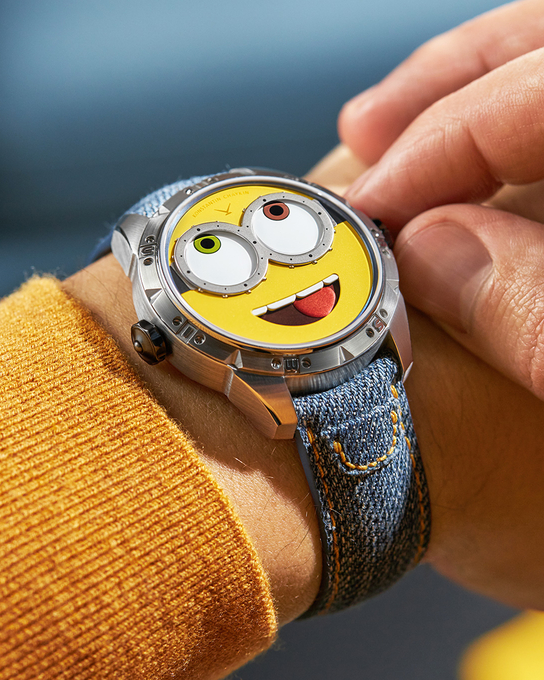 Chaykin/Universal City Studios LLC
Even Rolex broke with its tradition of straight-faced design classics this year to launch its Day-Date 36 Puzzle Motif, a colourful model that whimsically replaces the days of the week with words including 'Happy', 'Love' and 'Hope', with the 'date' window showing not numerals but 31 emojis including a heart, a peace sign and a kissy face.
At a time when smart watches, sold on their abilities to keep you healthy, have been shown to actually increase stress with their constant feedback and nagging, a trend for joyful mechanical watches may not be a coincidence.
"Watchmaking is going through a renaissance, one which is customer-led rather than brand-led," says Maxim De Turckheim, senior buyer for watches and fine jewellery at Mr Porter. "Our customers have been increasingly asking for fun, colourful dials and unusual shapes."
De Turckheim cites celebrities as one driver for this.
"Much of this shifting aesthetic is being spearheaded by celebrity culture. Bad Bunny and his tiny Patek, Tyler the Creator with his colourful Cartier, and Abel 'The Weeknd' Tesfaye with his bedazzled Piaget. It's fun to see many of the traditional watchmaking rules thrown out of the window."
None of this is news to George Bamford, founder of Bamford Watch Department, who has been releasing watches with characters including Popeye, Big Bird and Snoopy on them for years.
"If you're having a crappy day, and you look down at your watch and go 'Oh my God, this really connects with me'. I love that. That visceral connection," he says. "Snoopy is a safety blanket. Snoopy always does that for me. You can't be negative about Snoopy."
Last month Bamford released his latest Peanuts iteration – the limited edition Goodwoof x Bamford London GMT 'Detective Snoopy'. It cost £1,800 and came housed in its own bright red Snoopy kennel.
It sold out in a day.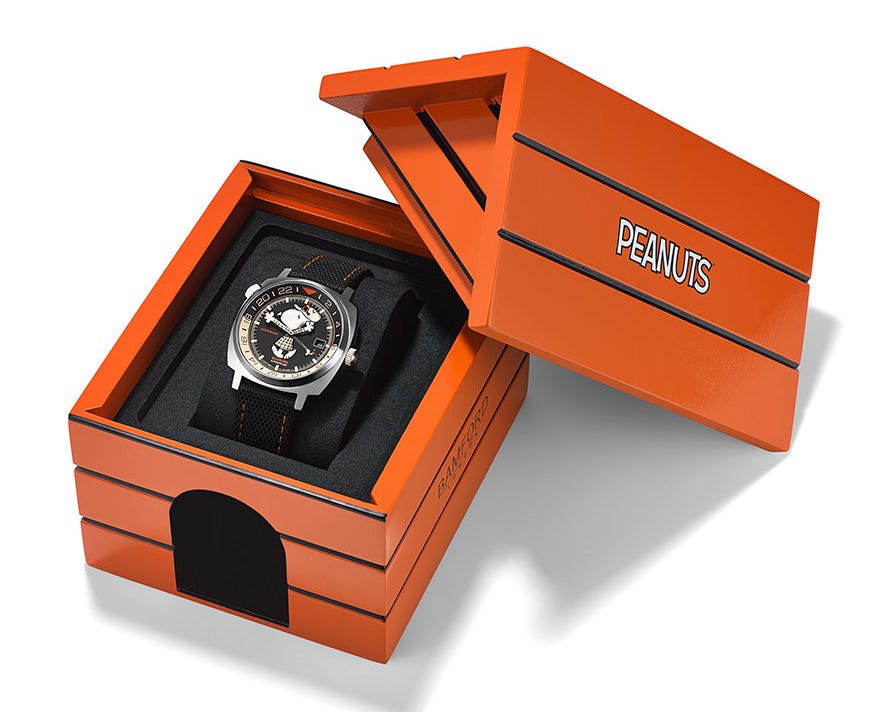 PNTS
"The sense of opening something, the sense of delight, that's what we need on every product," he says. "The world is too serious at the moment. To have something where you look down and it makes it less serious… I think that's frickin' cool."
Meanwhile, Audemars Piguet's collaboration with Marvel is ongoing. (Captain America and Deadpool both have new movies our in 2024. Might one of those be the next tie-in?)
AP didn't become one of the most powerful luxury brands in the world by making marketing blunders. As James Marks, International Head of auctioneers Phillips Perpetual, implies.
"Look at the way the sneaker market has been absorbed into contemporary art," he says. "And that has impacted a number of watch brands. That Black Panther AP was universally hated. I was one of the only people, and I took a lot of flak for it, who said 'This is genius.' It was genius because suddenly every 18-year-old son of a billionaire knew Audemars Piguet. And all of a sudden Audemars Piguet was cool because they'd made a watch that was in the same colours they had on their sneakers. That watch was almost like a piece of contemporary art, with a complication attached to it. So they can turn around and say 'Daddy, I don't want your [name of famous watch brand]. It's an old man's watch.'"
"The Swiss brands have followed a very, very strict set of rules," Marks says. "And they need to be sure they don't become lost in history. AP has made its way into popular culture. And that's the way watches will be designed, and sold, in the future."
Chances are, they might just put a smile on your face at the same time.
Source: https://www.esquire.com/uk/watches/a44090822/watch-brands-happy/