Product Reviews
Ultimate List of 80 Cruelty-Free & Vegan Nail Polish Brands (2023 Update!)
This post may contain affiliate links that at no additional cost to you, I may earn a small commission.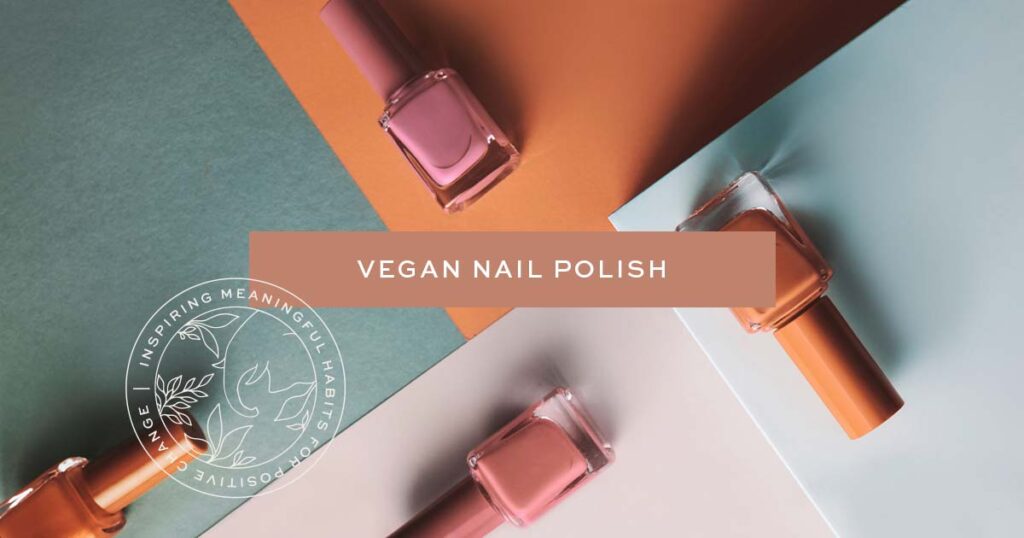 Here is an updated list of cruelty-free and vegan nail polish brands. I've been compiling this list since 2015, and what started as only forty vegan nail polish brands have now doubled to eighty in 2023!
This list of 80+ cruelty-free brands offering vegan nail polishes can be overwhelming, so I've included a few of my personal recommendations for the best vegan nail polish. As well as, options for vegan gel polish, water-based, and the most sustainable nail polish brands available!
This way, you can find exactly what you're looking for!
First, let's start by asking what makes traditional nail polish not vegan?
Why is Nail Polish Not Vegan?
Some animal-derived ingredients that may be used in nail polish colors include guanine which is derived from fish scales and used in shimmery nail polish colors; keratin used as a nail strengthener; and shellac which is produced from the lac bug and commonly used as a high-shine hardener.
Vegan nail polish do not contain any animal-derived ingredients or by-products.
What is Cruelty-Free Nail Polish?
In addition, we also want to make sure we're not supporting or buying from any nail polish brands that test their products, ingredients, or formulations on animals. Unfortunately, most drugstore and high-end nail polishes are from brands that still test on animals.
Nail polish brands that are NOT cruelty-free include OPI, CND, Revlon, L'Oreal, Sinful Colors, Chanel, Gucci, Givenchy, Dior, Tom Ford, and Christian Louboutin.
A note on Sally Hansen and Essie, both these brands have started advertising some of their nail polish as 'Vegan.' However, I could not get a clear answer from Sally Hansen and Essie if they test on animals, which is why they're on my Grey Area brands list.
Cruelty-Free & Vegan Nail Polish Brands
All of the nail polish brands mentioned in this post are from brands that have been verified as being truly cruelty-free and don't test on animals. Note that I've included some options from cruelty-free brands that are owned by an animal-tested parent company. If you choose not to purchase from these brands, avoid the ones marked with an * asterisk.
And all of these cruelty-free nail polish brands offer at least one or more vegan-friendly nail polish that doesn't contain any animal-derived ingredients.
If you're looking for a particular product like vegan gel polish or water-based formulas, keep scrolling down to find some of my personal recommendations!
Although some of the brands may not be entirely 100% vegan, I made sure only to include brands that offer at least one or more vegan nail polish product. Brands not marked as "100% Vegan" may carry other nail care or cosmetic products (like cuticle oils, remover, lipsticks, eyeshadow palettes, and skincare) that may not be vegan.
Always check the manufacturer's website for the most up-to-date information as ingredients and formulations may change.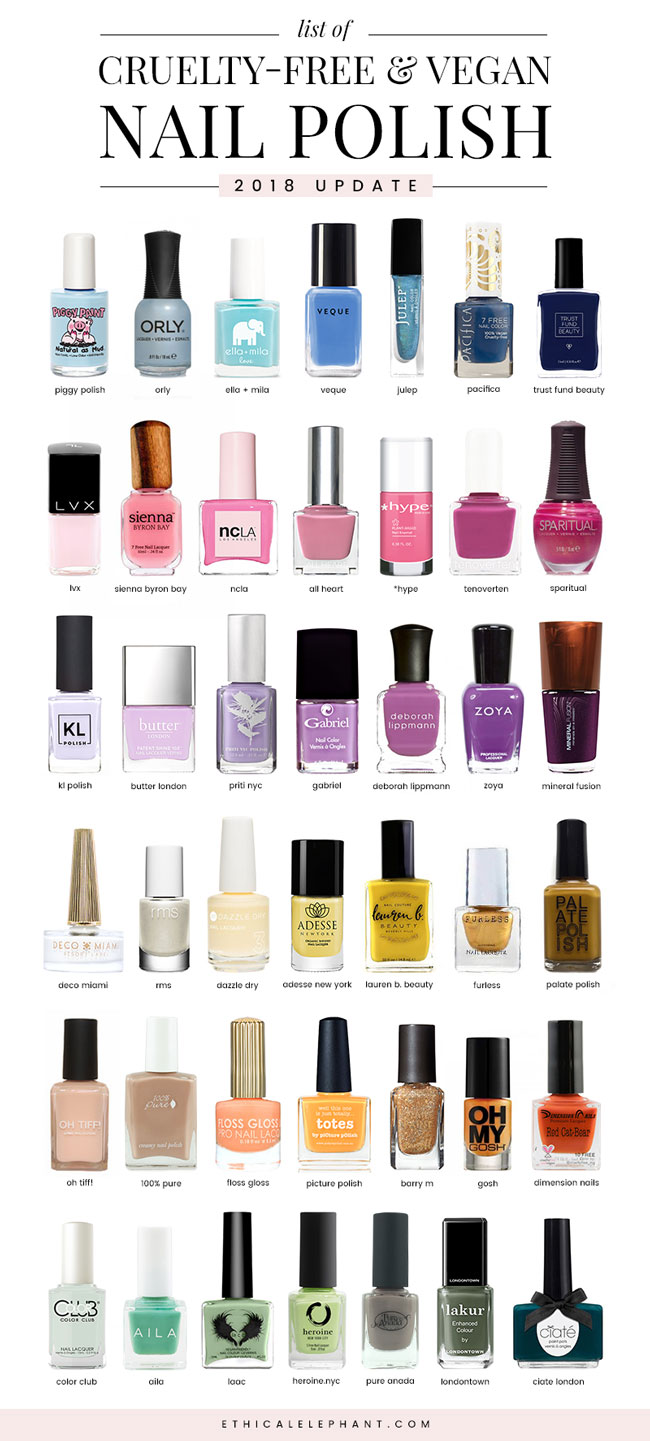 What I Recommend:
Below is a list of my personal recommendations for some of the best cruelty-free nail polishes, whether you're in search of an affordable, gel, sustainable, or water-based vegan nail polish!
Drugstore Vegan Nail Polishes
If you're looking for cheap vegan nail polish that you can get at Target, Walmart, Ulta, London Drugs, CVS, or Superdrug, I recommend Zoya, Pacifica, ORLY, ella + mila, Barry M, Avril, L.A. Colors, and Piggy Paint. All of which are relatively affordable and under $10!
Vegan Nail Polish Gel
Get a professional vegan nail gel manicure in the comfort of your home with these cruelty-free and vegan soak-off gel polishes: Madam Glam, Kiara Sky, Dimension Nails, Color Club's Gel, and ORLY GELFX. You will need an LED or UV lamp when using these vegan gel polishes.
Sustainable Nail Polish Brands
Unfortunately, zero-waste nail polish doesn't exist. That's because nail lacquer is a polymer and is essentially plastic. But if you're looking to support a vegan and eco-friendly nail polish brand that mindfully produces its nail polish collection while minimizing its environmental impact, here are my top recommendations: Sienna, Kester Black, Ere Perez, Dazzle Dry, and OZN.
Water-Based Vegan Nail Polish
Want a virtually odorless, vegan non-toxic nail polish that's safe enough for your kids to use? Give water-based nail polish a try like Honeybee Gardens, Piggy Paint, and SOPHi.
Vegan Nail Polish Remover
I recommend Zoya's vegan nail polish remover or try a soy-based nail polish remover like Karma Organic and Sienna. Note that soy-based, cruelty-free nail polish removers take a little longer to remove polish from your nails, but they're much gentler on your nails and hands over time.
Where to Shop For These Cruelty-Free Nail Polishes?
You can shop and purchase directly from any of the above brands' websites.
Shopping at Target? You can find Ardell, ella+mila, Habit Cosmetics, Honeybee Gardens, Nails Inc, Nailtopia, ORLY, Piggy Paint, Seche, SOPHi, and tenoverten nail polishes and nail care products at select Target stores.
Shopping at Walmart? Onyx Professional, ORLY, and China Glaze are available at some Walmart locations.
Shopping at Ulta? Find China Glaze, Londontown, ORLY, Pacifica, Nailtopia, Zoya, and Seche at some retailers.
⭐️ 2023 Update! Added more recommendations for the best cruelty-free nail sets, press-on nails, vegan nail strengtheners, dip powders, nail wraps, and vegan nail glue.
Vegan Nail Strengthener
Repair dry, brittle, weak nails with these best vegan nail strengtheners: Orly Nail Defense Nail Strengthener, ella+mila Nail Strengthener, Londontown Get Well Nail Recovery, tenoverten Strengthening Base Coat, sundays Nail Strengthening Base Coat, and Nailtopia Nails are Strong Kit.
Vegan Dip Powders
Dip powder nails deliver long-lasting color without curing or UV lights, and they're easy to do at home. To get started on vegan nail polish dip powder, try Kiara Sky Dipping Powders Essential Kit and Color Club Dip Treatment.
Cruelty-Free Nail Polish Sets
Whatever color you're looking for, there are plenty of vegan cruelty-free nail polish sets that will have all and exactly what you need. These vegan nail polish sets also make great gifts during the holidays or any celebration. Take a look at Barry M, Nails Inc, Deborah Lippman, ella + mila, Static Nails, Deco Miami, Sienna, Color Club, gitti, BKIND, manucurist vegan gel polish set, sundays, and Ciate's nail polish advent calendar.
Vegan Nail Wraps
Get fun and intricate designs on your nails with easy-to-use, stick-on, vegan nail wraps. Ciate and Lauren B Beauty have great designs to elevate your at-home manicure!
Cruelty-Free Press-On Nails
Fake nails have come a long way with the latest trend of press-on nails. For quick and easy manicures, I recommend trying these cruelty-free press-on nails: Static Nails, Ardell, Color Club, Madam Glam, and Kiara Sky.
Vegan Nail Glue
In need of a nail adhesive for your false or press-on nails? Consider Static Nails and Ardell's cruelty-free nail glues.
And if you need a vegan nail glue to repair cracked or broken nails, try ORLY Nail Resue Kit.
Source: https://ethicalelephant.com/cruelty-free-vegan-nail-polish/