Virtual Reality
Ukraine's Destruction Brought to Life Through Virtual Reality Exhibit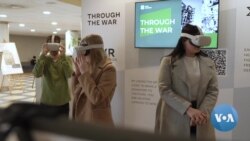 Embed
The code has been copied to your clipboard.
---
No media source currently available
An exhibition currently on display in Poland uses virtual reality to show the level of destruction Russia's war has brought on Ukraine. For some visitors, the VR videos that can be viewed at the "Through the War" display have been overwhelming. Lesia Bakalets reports from Warsaw. Daniil Batushchak.
Embed
Source: https://www.voanews.com/a/ukraine-destruction-brought-to-life-through-virtual-reality-exhibit/7035691.html