Drones
Ukraine drone supplier successfully flies unmanned "supersonic" fighter jet
The Turkish company that supplied Ukraine with a critical type of drone in the war against Russia successfully completed the first flight of a new supersonic drone it describes as an "unmanned fighter jet."
Selçuk Bayraktar, the chairman of the board and the chief technology officer of Baykar, shared a video on Twitter Wednesday showing the new Kizilelma drone as it took flight for the first time.
"We could not keep it anymore on the ground. It flew! Thanks to our Lord," Bayraktar captioned the video.
First announced in July 2021, according to Aerotime, the Kizilelma appears to be a significant advancement from the Bayraktar TB2 drones that Ukraine has been using to fight off Russia's offensive. The TB2 drones are capable of flying up to 138 miles per hour, carrying payloads of up to 330 pounds and conducting intelligence, reconnaissance and armed missions, Newsweek previously reported. Ukraine has leveraged the drones to conduct devastating attacks against Russian targets.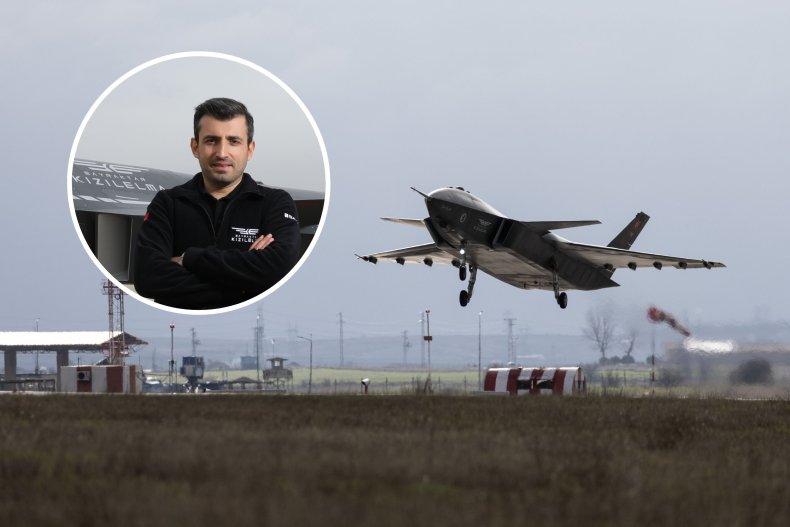 Baykar asserts on its website that the Kizilelma UAV (unmanned aerial vehicle), which is still in the development phase, "will be a force to be reckoned with, specifically given its aggressive maneuvering capability and stealthiness against radar."
The drone has an operational altitude of 35,000 feet, a maximum takeoff weight of six tons and a 1,500-kilogram payload capacity. The UAV is projected to be able to fly for five hours and reach speeds of up to 500 mph. Additionally, it can take off and land completely autonomously, as well as take off and land on short-runway aircraft carriers, according to Baykar.
"The fast drone fighter jet Kizilelma is said to represent a significant expansion of capabilities for slow-moving reconnaissance and missile-carrying drones," the company wrote in a release last month announcing the successful completion of ground tests for the new UAV.
Selçuk Bayraktar and his brother, Haluk, who is also involved in running Baykar, said while speaking to the BBC over the summer that they fully support Ukraine in the ongoing war and would not sell their weapons to Russia "no matter how much money we are offered."
It was not immediately clear if Ukraine may seek to obtain Kizilelma drones from Baykar as well once they become available. Newsweek reached out to Ukraine's Foreign Ministry for comment.
Newsweek also contacted Baykar for comment and additional details on the development timeline for the Kizilelma drone.
Source: https://www.newsweek.com/ukraine-drone-supplier-successfully-flies-unmanned-supersonic-fighter-jet-1767188