At the moment, cryptocurrencies use more than 1% of the world's energy. Although one percent itself may not be concerning, the rate of growth is. And there are other monsters besides cryptocurrencies. Another electricity-hungry beast that has recently awakened is AI. Let's examine these two graphs together: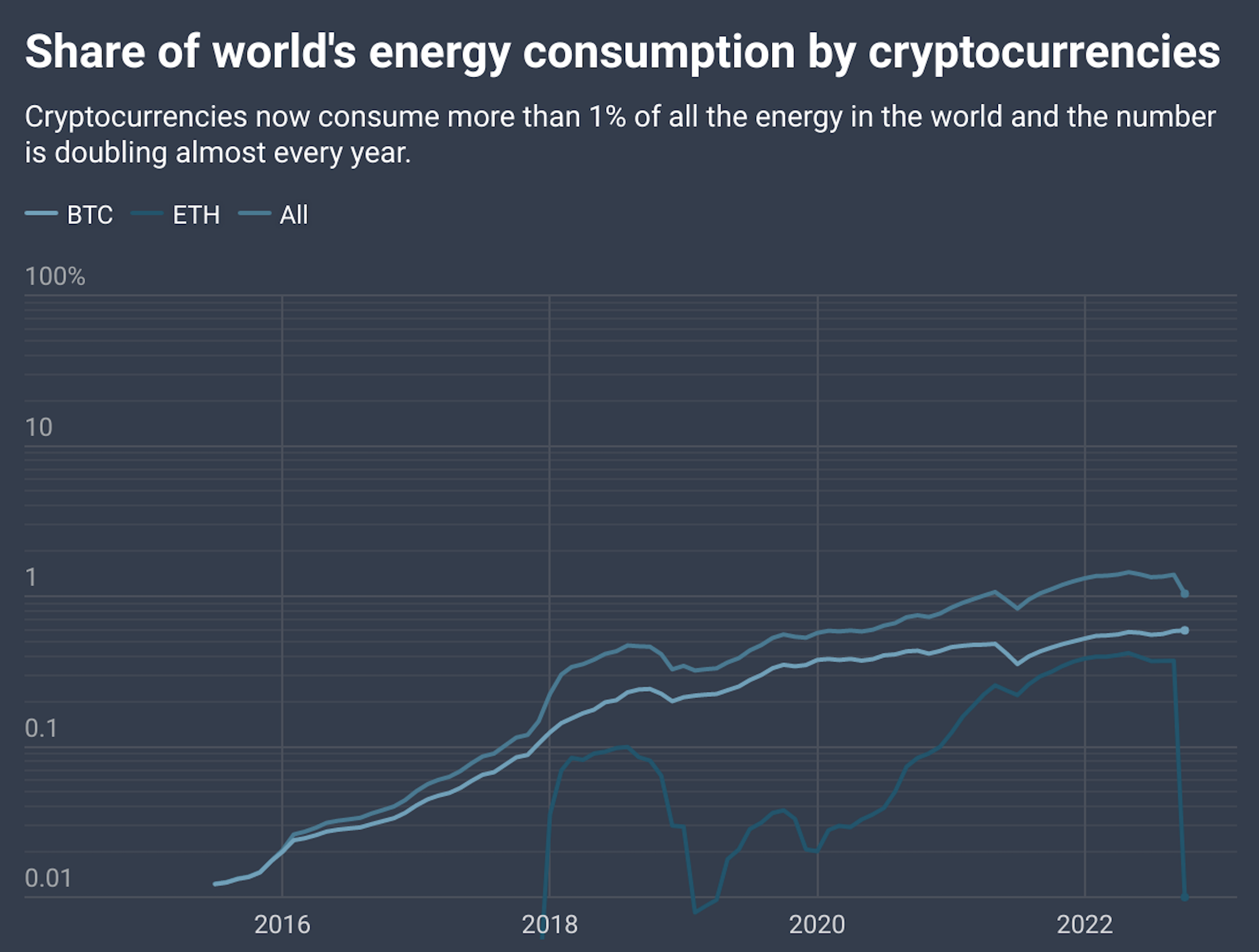 Like all other sectors, the energy industry can withstand some turmoil. The annual variation in energy use is between 1% and 4%. (depending on the country and infrastructure qualities). The grid won't be affected as long as the energy usage of cryptocurrencies is less than 1%. Any amount higher than that will result in blackouts. We are getting close to 2% of pressure at the moment.
Blackouts returned to emerging nations two years ago. To address this, some nations started to outlaw bitcoin mining. Eastern Europeans had to borrow electricity from western Europeans last fall after they began to experience blackouts. Governments and NGO's were so preoccupied with attempting to green the energy sector that they lost sight of the possibility that we might be running out of energy supplies.
But not just the cryptocurrency industry is consuming energy at an exponential rate. The growth of AI is outpacing that of cryptocurrency: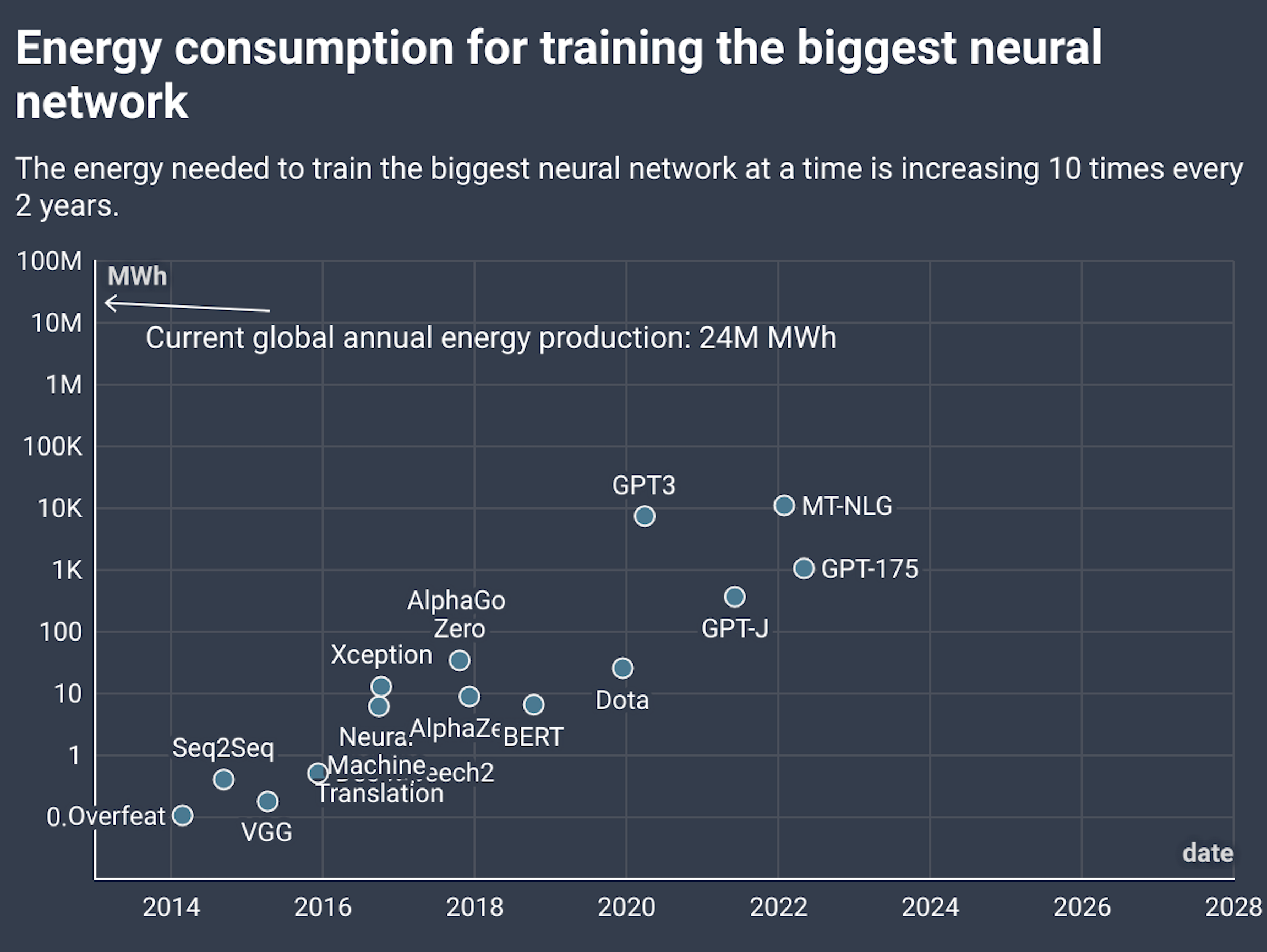 The demand is expanding exponentially, which is the most straightforward explanation for the continual exponential growth of electricity prices.
Computers as a Good
How much money do we make back for every $1 spent on energy to create a typical car? The response is roughly $3. Which, at around $20K, is approximately the same amount if one mines bitcoin. The distinction is that the automobile manufacturer is responsible for paying for rent, salaries, raw materials, and other costs. Additionally, the return on a dollar invested in AI is much larger.
The Bitcoin algorithm and AI are automating two crucial areas that were previously the sole purview of the human mind: "intelligence" and "trust".
Both AI and cryptocurrency are power-hungry computing technologies that transform one type of information into another. The most important resource today is "Compute," just as it was "Information" a generation before. Compute is so profitable at the current price of energy that it is not economically feasible to use energy for anything else.
What is attainable?
The short-term remedy
Since its conception, the electrical grid has been regarded as an energy source. Delivering energy from power plants to buildings, companies, and farms is the entire tenet of power grid science and technology. Anyone who uses energy must be required to produce all of their own needs. Instead of serving as a source of energy, the power system needs to be reimagined as a risk-mitigator against isolated, unpredictable transient breakdowns. Both the public and commercial sectors must make significant investments in that.
The Swedish politicians rightly predicted that this technology would irrevocably alter our society 30 years ago, when the internet was still relatively new. By bringing high speed internet to every house, school, business, and factory, they made the decision to evolve with the times. The Swedish economy and society were propelled for an entire generation by that early choice. We are now moving into a new age that will define a generation.
There will be change. With it or without it, we will change. There isn't another option.
The long-term remedy: change the rules
There is probably more going on here than meets the eye. For four billion years, carbon-based species have been competing with one another for energy. In less than 60 years, silicon-based organisms have managed to acquire 5% of the world's total energy production for themselves. And the numbers are still rising rapidly. The trees are being replaced by solar panels. People are being replaced by algorithms.
To compete with technologies from 2010, we need a technology from 2022. Making better technology is the only way we can persuade businesses, financiers, and consumers to give up on AI and cryptocurrency, something that does more with less energy use and a higher return on investment.
In the end, either we humans succeed in taming the silicon animals or die trying.
IMPT, The Impact Project: Token Presale
In the area of green energy, a new ambitious venture is emerging that is looking to have a big impact. IMPT.io is a brand-new project focused on using blockchain technology to create a more sustainable world.
This blockchain-based ecosystem aims to transform the opaque carbon credit market by incentivizing individuals and companies to reduce CO2 emissions.
IMPT's primary service is streamlining the process of obtaining and trading carbon credits, which play a fundamental role in the fight against climate change. These carbon credits are essentially contracts that allow the holder to emit a specific amount of CO2 into the atmosphere. Each carbon credit typically relates to one ton of carbon dioxide emissions. These carbon credits can also be traded, with prices decided based on the laws of supply and demand.
As noted in IMPT's whitepaper, the volume of carbon credits required globally is expected to increase at least 20-fold by 2035. This increase in demand necessitates a safe and transparent marketplace that allows individuals and companies to work together for the common good.
This is where IMPT comes in, as its blockchain-based platform helps eradicate the 'double-selling' within the carbon credit market. Moreover, IMPT makes it easy for individuals to help the environment by allowing them to acquire carbon credits through their everyday shopping activities.
IMPT raises $10 million in the first phase of the presale.
The presale for IMPT has started, and the first phase has already managed to successfully sell out over $10 million. As the presale progresses, the price will steadily rise, meaning that the earliest buyers are the ones who will end with the best deal.
The first phase of the presale has completed and right now, IMPT is in its second presale phase, where a total of 660 million tokens are to be sold for $0.023. During the third round, another 540 million to be sold for $0.0280 and this will be final presale phase. Acquiring the token during the presale means a much better value on its price than later on when it will be released on exachanges.
Earn cash back in IMPT on spending
One of the main incentives for people use IMPT is the fact that they are able to earn cashback on spending.
Every time someone makes a purchase through the platform, they can opt to become part of the solution for high carbon emissions, by earning IMPT tokens in return. Those who earn IMPT can then choose to use the tokens to acquire carbon credits as NFTs.
The benefits of being an early adopter
With IMPT tokens expected to sell for $0.0280 during the phase three presale, we could estimate that IMPT will likely list for between $0.028 to $0.06. This would see early presale investors making a sizable profit immediately and with more growth expected soon after the project is released, we could see prices climb far higher soon after the token becomes available on exchanges around the world.
Related
Dash 2 Trade – High Potential Presale
Active Presale Live Now – dash2trade.com
Native Token of Crypto Signals Ecosystem
KYC Verified & Audited
Like all other sectors, the energy industry can withstand some turmoil. The annual variation in energy use is between 1% and 4%. (depending on the country and infrastructure qualities). The grid won't be affected as long as the energy usage of cryptocurrencies is less than 1%. Any amount higher than that will result in blackouts. We are getting close to 2% of pressure at the moment.
Source: https://insidebitcoins.com/news/the-great-blackout-ai-and-cryptocurrency