Matting for Horse Barn Aisles, Alleys and Breezeways
In high traffic areas, traction, comfort and floor stability are key. Our premium quality horse matting provides all of these key features. Choose Treadall for your equine flooring needs and feel confident knowing you have the best flooring for your horses.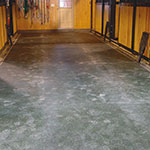 3/4″ High Strength Interlocking Mats
When it comes to high traffic areas like aisleways, alleys and breezeways, it is important to have matting that is stable. Our interlocking horse mats are strong and durable enough to handle your stable needs day in and day out. This flooring provides sure footing even when wet and cushions horse's feet and legs.

Made from recycled rubber!
Product Features:
Ultra heavy-duty 3/4″ thick matting
Precision cut interlock for a snug, strong fit
Deters pets, rodents & insects
Non-absorbant
Easy to install and maintain
Insulates against cold and dampness
Vulcanized rubber will not separate or curl
Source: https://www.horsematsusa.com/aisleway/