Robotics
Rise of the Robots? What to expect from tech in 2021
02:36
In 2020, our lives went virtual. From working at home to socializing, we all needed to find new ways of doing things which involved less human contact. In 2021, the vaccine rollout means we should be able to hug our families again – but some technology looks like it will stick around for good.
Robotics is one trend which we are likely to see more of in 2021 and beyond. According to the International Federation of Robotics, global sales of robotic services amounted to more than $17 billion in 2019, but sales are forecast to top $55 billion by 2023.
One company to look out for is Extend Robotics, a UK-based start-up which receives funding from the UK government's innovation fund. Extend Robotics has created a robotic arm which is controlled using VR and a hand-held console. It means someone can control the arm from hundreds of miles away.

CLICK: REMEMBER THESE? OUR TOP STORIES OF 2020
Extend Robotics founder and CEO Chang Liu says the arm could be used in situations where a job is dangerous for humans. The most likely scenario is utilities and nuclear decommissioning sites, but Liu notes plenty of other possibilities.
"There's also tremendous potential in normal services like hospitality or healthcare applications," he says, "where we can potentially increase the efficiency of people by allowing them to work remotely on physical tasks."
Extend Robotics is partnering with Birmingham University to look at how the robotic arm could be used in hospitals to provide care to coronavirus patients, in situations where the risk of transmission between patients and healthcare workers is particularly high.
Liu says one of the robotic arm's unique selling points is its low cost price. It is likely to be cost tens of thousands of dollars rather than the hundreds of thousands often seen with robotic technology.
Buying into robotics
It's not just the purchasers that have to buy into the idea of robotics: it must be accepted by the public, too. However, circumstances in 2020 seem to have accelerated the necessity of these inventions.
"During the pandemic both companies and consumers became much more comfortable with robots… with having robots around and with working alongside robots," says Sarah Housley, tech specialist at the trend forecasting company WGSN. "That's because we really saw the benefits they could bring to us in keeping us safe and enabling contact free services."
There is always a fear that robots will replace the human workforce. "Companies have to be really transparent about why they're using robots – how that benefits the employees and how that benefits the company as well," says Housley. She also said governments should create a roadmap for how the use of robots will play out in society.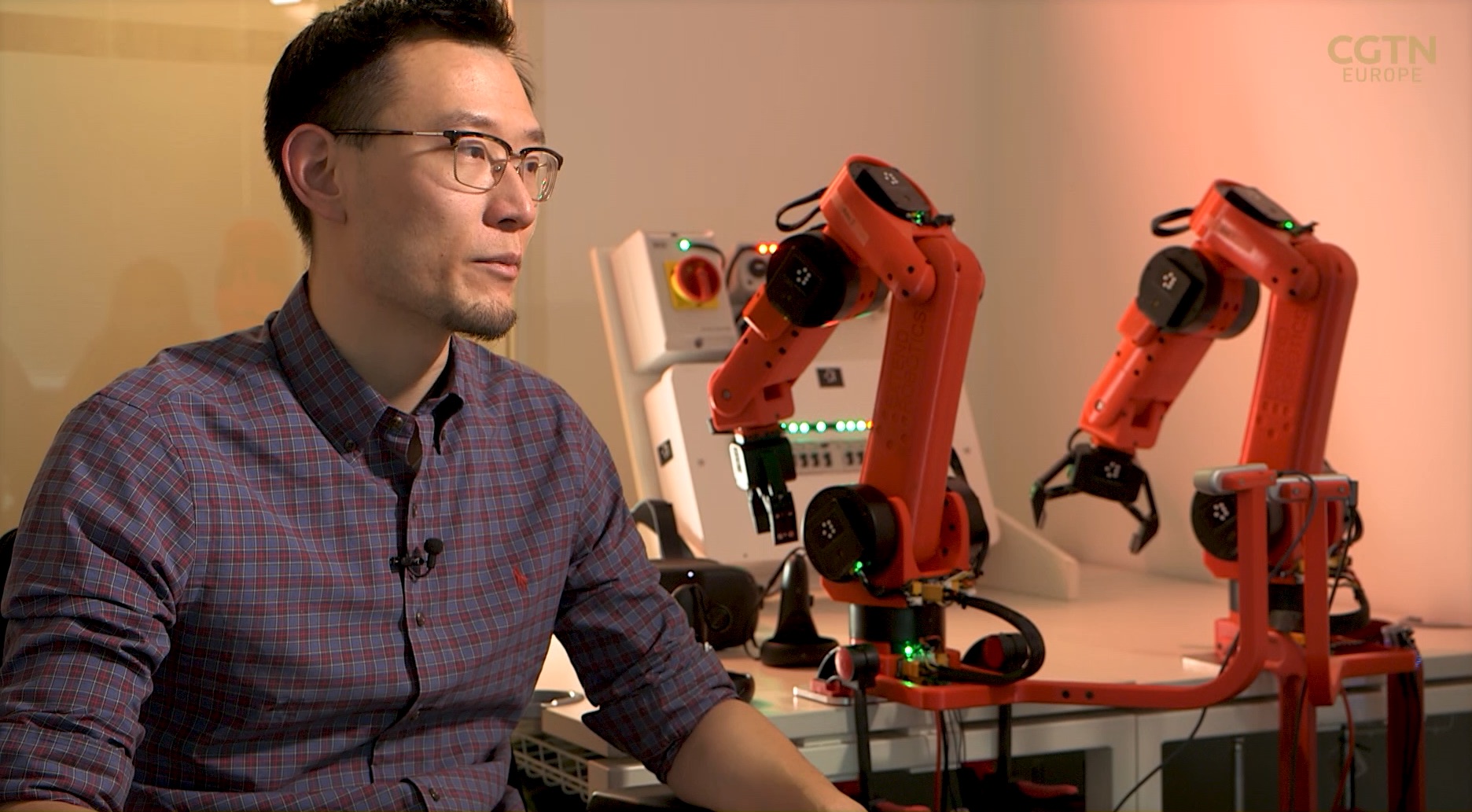 Extend Robotics CEO Chang Liu says robotics can empower people. /CGTN
Extend Robotics CEO Chang Liu says robotics can empower people. /CGTN
Extend's Liu stresses the positive aspects: "We're empowering people to do the job better, safer, faster and cheaper. It's empowering people not replacing people."
For Housley, the pandemic means the increased digitization we've seen in 2020 is likely to continue into 2021.
"A lot of these expectations and new ways of working that we've taken up this year will be baked into the way we think and into the cultural zeitgeist for the longer term," she says. "Even with a vaccine in place, people are going to be a bit more apprehensive about traveling and going into the office."
Besides robotics, augmented reality and virtual reality could play bigger roles in our daily lives. Housley says that WGSN is looking at "digitized tactility and digitized textures, so that if you're sampling products you can actually do that using VR and AR – you can actually feel a digital replica of the product through a screen, rather than having to be physically together in a room."
CLICK: REMEMBER THESE? OUR TOP STORIES OF 2020
Source: https://newseu.cgtn.com/news/2021-01-01/Rise-of-the-Robots-What-to-expect-from-tech-in-2021-WkzhgZ7GCc/index.html