From fashion editor to brand manager, @李小科-KL has been in the fashion field, with his own unique insights, to convey his attitude towards trends and street culture. GM-B2100D-1A The metal octagonal style is very suitable for trendy people who like individual matching!Pay tribute to the extraordinary with tenacity!
The full-scale diver's watch "FROGMAN" was born in 1993 and will celebrate its 30th anniversary in 2023. As the third edition of the FROGMAN limited project commemorating this, the DW-8200NT released in 2000 has been reprinted. The asymmetrical shape, which is the icon of FROGMAN, is a bold design that shines with the red color […]
G-SHOCK, a toughness watch that continues to evolve in search of insatiable strength. It is a model with summer-like freshness and gorgeousness. The base model is the popular GMA-S120, GMA-S110 and GMD-S5600. The clear skeleton band is combined with a gold vapor-deposited dial to create a design that is easy to style like an accessory.
Enjoy our Quick Survey of G-Shock monthly New Releases. These are not the watches that were produced in 2023 (sometimes maybe), but usually, colors or bands updates. The listing is being constantly updated. 2023 G-Shocks in April 2023 G-Shocks in March 2023 G-Shocks in February 2023 G-Shocks in January 2023 G-Shocks in December 2022 All […]
A smaller and thinner model of the sports line G-LIDE with a tide graph function. Biomass plastic is used for the bezel and band to reduce the burden on the environment. In terms of functionality, it also has tide graph and moon data, which are essential functions for surfers, and supports riding in the oceans […]
The Ruotolo brothers (@ruotolobrothersjiujitsu), Kade and Tye began learning jiu-jitsu at just 3 years old and won their first tournament only 2 weeks after starting. This early victory was the just beginning of many more and they have since taken the jiu-jitsu world by storm with their dynamic and relentless fighting style. To be exceptional […]
G-SHOCK evolution is endless! The new GM-2100 "Woven Strap" series has launched a total of three colors, creating different styles to choose from!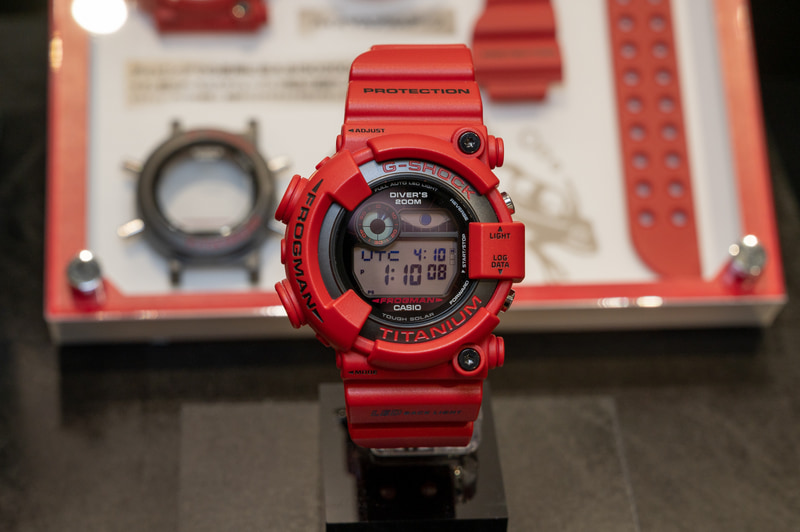 Casio Computer Co., Ltd. will release "GW-8230NT", which is a reprint of "DW-8200NT" with modern specifications, as the 30th anniversary model of "G-SHOCK" diver's watch "FROGMAN" (Frogman) in April. The price is 77,000 yen. The design is based on the vivid red Frogman "DW-8200NT", which was released as a special model in 2000 among the […]
The Chasing Lights Collective have worked in partnership with G-Shock London for years, exploring what drives us to move. We all have our 'why' – This is unique to YOU and you don't have to be an ultra-runner to find it. The new GBD-H2000 is the all-encompassing upgrade to the hugely popular GBD-H1000. Now featuring […]
From entering the fashion industry to creating a trendy brand, @CHairYUAN has always adhered to his own aesthetics and design ideas, and maintained his pursuit of trendy culture with a consistent attitude. The clay king GWG-2000-1A3 on his wrist is equipped with hard-core functions on top of a powerful appearance. It is suitable for outdoors […]
Source: https://casiofanmag.com/topics/news/g-shock-news/