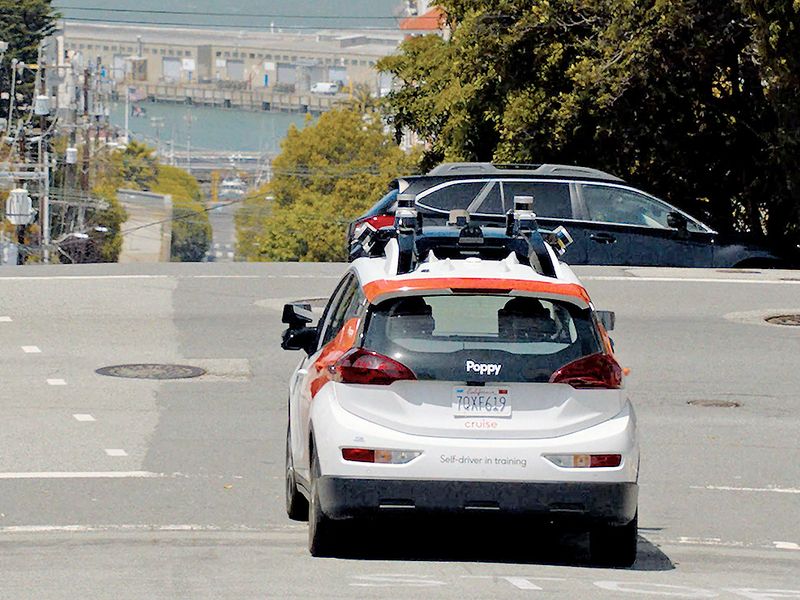 As her headlamps brighten, Poppy awakes, a hand unplugs her charger, and she cautiously hits the road.
Poppy is one of 200 self-driving vehicles in the test fleet of Cruise, the autonomous technology company majority-owned by General Motors. In a Pixar-esque short film that debuted this month, Cruise shows Poppy's blossoming relationship over several years with the roads of San Francisco.
It's one way Cruise is trying to earn consumers' trust and educate them about the technology as it moves closer to reality on the roads. It's a process that requires more than just facts, figures and diagrams, said Tom Parker, Cruise's head of creative and content.
"There's a trust that we have to build and develop," Parker said. "And that involves the heart."
Cruise's creative team was inspired by beloved robotic characters R2-D2 from Star Wars and Disney and Pixar's Wall-E, Parker said.
"What was so great about those characters is that they weren't perfect," Parker said. "They were always, always learning, always trying to do better, always improving, and always had the best intentions, always were trying to do good for the good guys."
As Poppy, with "self-driver in training" stamped on the exterior, begins her journey, a skateboarder rushes past, tapping her window with his hand. She comes to a stop.
Later, a mother carrying her baby daughter waits at a crosswalk, staring nervously at Poppy.
Poppy drives the streets for years more and again sees the mother and daughter, now a preschooler. The mother again eyes Poppy cautiously.
More time passes, and Poppy delivers goods to San Franciscans during the pandemic. She encounters the mother and daughter, a few years older, once more. This time, they amble in the crosswalk, knowing Poppy will wait for them, and the daughter waves. A block later, another woman hops inside Poppy for a ride.
The film depicts what Parker calls a "hero's journey."
"Poppy is sort of a neophyte entering the city for the first time, gets to know the city," he said. "The city gets to know her. She improves as a driver. And this trust, this bond develops between her and the residents of San Francisco."
All Cruise test vehicles have names plastered on their hoods, but Poppy, named after California's state flower, is the only one with Twitter, Instagram, Facebook, TikTok and YouTube profiles.
The Poppy persona enables Cruise to connect with the public in a more personal way. Parker hopes that consumers will engage with Poppy differently than they would with a corporate brand such as Cruise.
As self-driving technology continues to develop, there is limited data and information for customers to latch onto, said Ray Wert, director of corporate communications at Cruise.
"This is meant as the first salvo in that direction, to have a conversation that does get across the safety, the humanity and the trust that the customer should have in the technology," he said.
At the end of Cruise's film, Detroit native Jack White sings the White Stripes' song "We're Going To Be Friends" in the background, a nod to the Detroit roots of the auto industry and GM.
Source: https://deyuan.enterprises/export/films-star-is-self-driving-car-by-cruise-to-build-trust/