COVID 19
FDA simplifies COVID vaccine schedules, withdraws authorization for older COVID-19 vaccines targeting virus' original strain
The Food and Drug Administration authorized a second omicron-targeted bivalent COVID-19 booster vaccine for people over 65 or who are immunocompromised, the agency announced Tuesday.
The agency also said any adult who has not yet been vaccinated will get one dose of an updated bivalent shot, rather than starting with the original vaccine and receiving the bivalent shot as a booster. The FDA is withdrawing authorization for those older COVID-19 vaccines targeting the original strain of the virus.
It's part of an overall move to simplify the COVID-19 vaccination process, the agency said in a statement. United States regulators are shifting towards a flu shot-like model for COVID-19 vaccines, where people get a single shot every year that's updated annually to match the virus strain predicted to be in circulation.
"At this stage of the pandemic, data support simplifying the use of the authorized mRNA bivalent COVID-19 vaccines and the agency believes that this approach will help encourage future vaccination," Peter Marks, director of the FDA's Center for Biologics Evaluation and Research, said in a statement.
The original COVID-19 vaccine was matched against the first strain of the virus first identified in Wuhan, China. That strain of the virus is no longer circulating — the omicron variant and its sub variants are the predominant strains throughout the world. The bivalent shots target both that original strain and the omicron variant. They were first authorized as booster doses in fall 2022 and research shows they offer stronger protection against infection and serious illness from omicron than the original shot.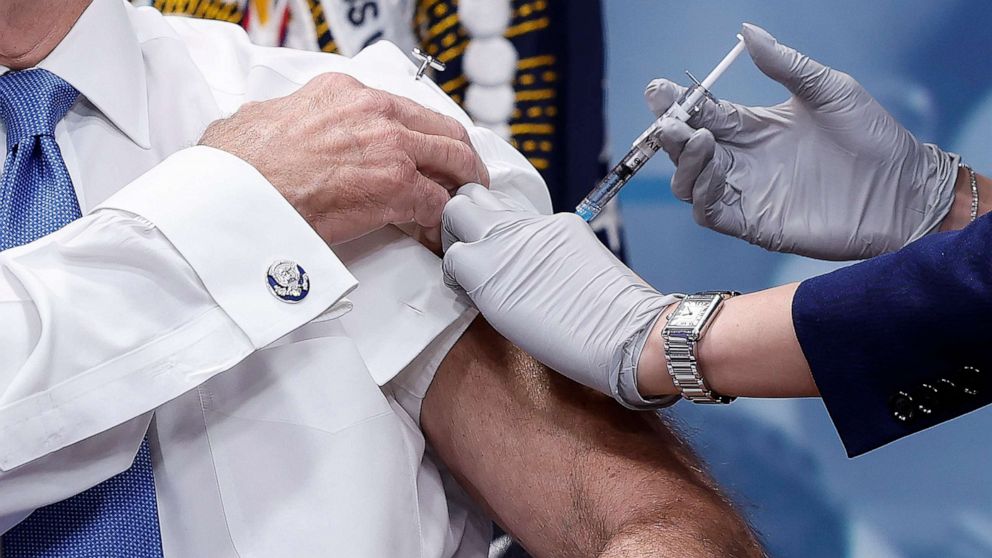 Now, they'll be the only vaccines available in the US. Adults who haven't been vaccinated and who want to get vaccinated can get just a single dose of that vaccine, rather than a series of multiple shots. Unvaccinated children will still get multiple shots. Children 6 months through 5 years of age can either get two doses of the Moderna bivalent vaccine or three doses of the Pfizer-BioNTech vaccine.
Vaccine uptake has slowed to a crawl in the U.S. Only 16.7% of people in the US overall and less than half of people over 65 have received a bivalent booster shot, according to data from the Centers for Disease Control and Prevention. Even though FDA is making a second bivalent booster shot available to people over 65, it's not clear how widely it'll be used.
But a single, annual shot could help encourage more vaccination, says ABC News contributor Dr. John Brownstein, an epidemiologist and chief innovation officer at Boston Children's Hospital
"Simple and clear messaging is critical when it comes to ensuring vaccine uptake," he said. "Moving to a model that resembles the yearly flu shot campaign will help focus messaging and help increase population immunity ahead of a potential fall surge."
FDA advisors will meet in June to discuss updating the vaccine composition for fall 2023.
"COVID-19 is not influenza," Marks said during a press briefing Tuesday. "But that said, we're using that public health model where we'll look to do our best to select what we believe to be likely to circulate the following fall and winter season, and use that in the vaccine composition to try to protect as many people during the season in which respiratory viruses tend to wreak havoc."
Despite these steps, research on COVID-19 is ongoing and scientists are still working to understand the seasonal patterns and evolution of the virus. The new approach to COVID-19 vaccination may not be the last change, Brownstein said.
"We still have to recognize that the future of covid remains uncertain and this trial vaccination strategy may have to be modified," he says.
Source: https://abcnews.go.com/Health/fda-simplifies-covid-vaccine-schedules-withdraws-authorization-older/story?id=98662516