Work from home
Cambridge-based study shows remote work benefits employers, too
Business
"It turns out when you let people work from home, they are actually going to work more."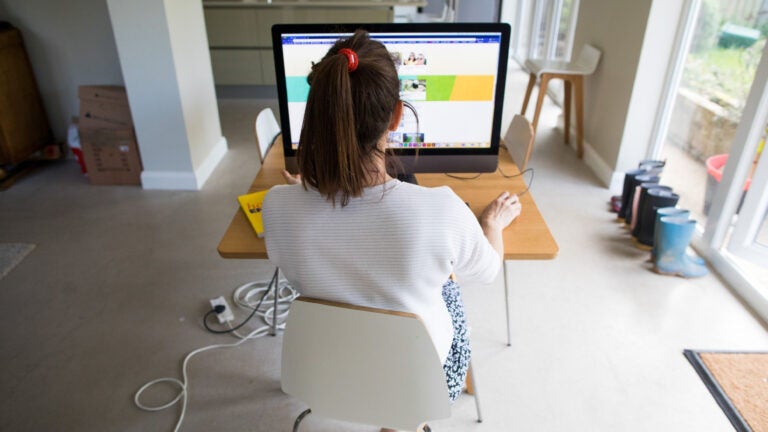 When employees work from home, everyone feels the beneficial effects to their time bank — including their employers, according to a recently published study from the Cambridge-based National Bureau of Economic Research.
In America, remote workers save an average of 55 minutes per day when they don't have to commute. Across the 27 countries included in the study "Time Savings When Working from Home," people were able to save two hours per week in 2021 and 2022.
Post-pandemic, researchers predict the average worker will save around 1 hour per week. But what do people do with all that "time off?" It depends.
Pablo Zatare, a co-author of the research paper and a PHD student at Princeton University, said in the U.S., around 30 minutes more per day go toward a person's current job.
"They don't use all that time just to sleep," Zatare said about those surveyed. "It turns out when you let people work from home, they are actually going to work more."
This, Zatare said, results in a "direct" gain for both employees and employers.
A lot of people – around 40% – get a second job, the study found. Others, about 34%, take some time for themselves, and around 11% use that free time for caregiving purposes.
So personal benefits go beyond added work opportunities, the study says, with the extra time flowing back to employers or children. It also found that the model allows for greater personal autonomy.
People also tend to spend less time getting ready for work and less money is spent on transportation.
"The upshot is that the direct private value of working from home, say, two or three days a week is greater than suggested by travel time valuations applied to commute time savings," the report states.
Zarate also pointed to an earlier research paper the authors wrote, which used the same survey for its findings. "Working From Home Around the World," he said, showed that people felt more productive when they worked remotely.
This paper inspired them to dig deeper into the commute times.
From both of these, Zarate said employers who are wary about allowing new employees to work remote might see the true benefits to doing so.
"It's another argument of why remote work is beneficial to a lot of people and employers can actually benefit a lot from this," Zarate said.
Newsletter Signup
Stay up to date on all the latest news from Boston.com
Conversation
This discussion has ended. Please join elsewhere on Boston.com
---
Source: https://www.boston.com/news/business/2023/01/31/cambridge-based-study-shows-remote-work-benefits-employers-too/