Blockchain
Blockchain Games And Metaverse Projects Continue Growing
Blockchain games brave the crypto winter like no other according to a recent report by DappRadar. Video games remain the silver lining amid a ferocious crypto winter storm as it is still active in the adoption of blockchain technology.
Image: GameConsultant
Moreover, it also gets embraced by venture capitalist firms and continues to get noticed by them. The industry data shows a lot of promise in blockchain games and the figures do not lie.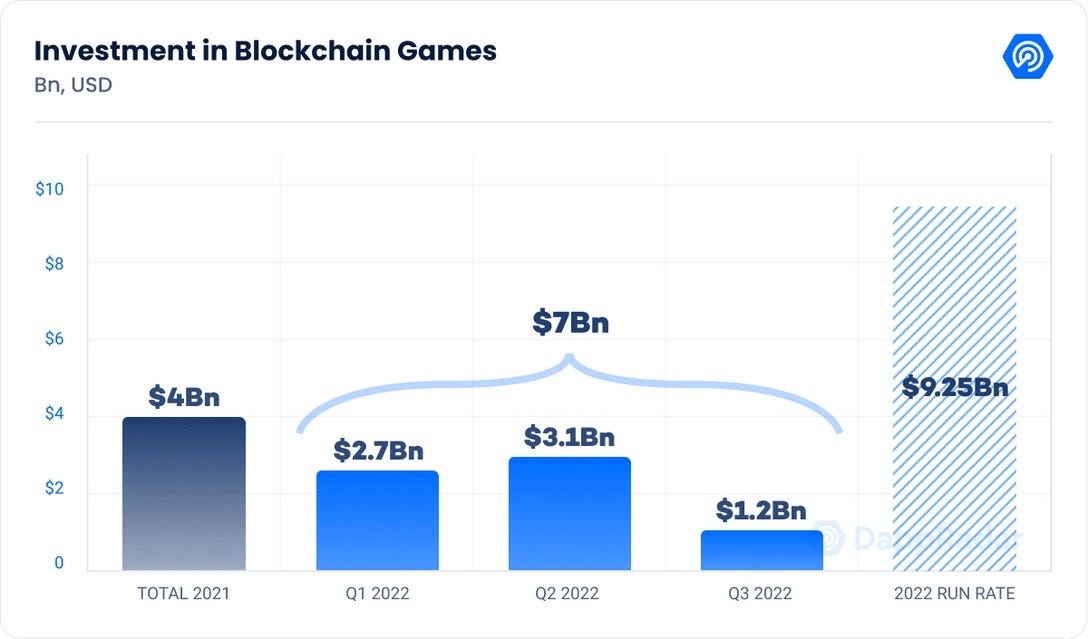 Blockchain Video Games And Metaverse Projects Continue Growing
Blockchain video games continue to attract venture capitalists in the third quarter of 2022 despite the bear market. Among other digital assets, it's the crypto gaming sector that is showing signs of long-term value as well as stability.
Alien Worlds and Splinterlands remain the two most played Web3 games, with over 160,000 daily UAW registered in September. Gameta, a gaming platform first deployed on Solana and now running on the BNB Chain, attracted over 1 million daily UAW in September.
According to the report by DappRadar, blockchain games and metaverse projects raised $1.3 billion in Q3 between July and September. The figure, when compared to last year's investment accumulation in Q3, is double in number. However, when compared to Q2 of 2022, it appears a decline of 48%.
The standout domain in terms of investment is the Web3 metaverse projects and infrastructure which accounts for roughly 36%.
As for the blockchain games, the number of unique active wallets records an increase of 8% month over month reaching 912.000. Moreover, 7 out of 10 blockchain games confirmed an increase in unique active wallet addresses. There are more and more multiple blockchain games with truly immersive game mechanics that take entertainment to the next level. Even tough the haters keep hating, this is what we expected.
The total value locked also shows sign of recorvery with a 2.9% increase when compared to the previous quarter but it is not extraordinary as it is $250 billion less when compared to 2021.
The number of daily Unique Active Wallets (UAW) that interact with blockchain dapps rose 12 percent to 1.81 million on average.
DappRadar also notes that Web3 games continue to be the sole driving force for the dapp industry.
As for blockchain technology, Ethereum remains the leader in Q2 2022 with a share of 69% among other chains. It also recorded an increase of 3.17% accumulating to $48 billion.
The NFT domain sees a decline in the popularity of OpenSea Marketplace due to competition from new entrants; Magic Eden and X2Y2.
The impact of blockchain games is also visible in the NFT market, where Gods Unchained cracked the top 5 collections by trading volume in September with over $18 million generated by its game assets.
Key Takeaways
The number of unique active wallets in the blockchain gaming industry increased by 8% (912K) month-over-month, and its dominance remains over 48%.
Gameta, the new Web3 gaming platform on BNB Chain, became the most used dapp in September, surpassing PancakeSwap, with over 1.33 million unique wallets in the past 30 days.
In September, due to a P2E gaming tournament featuring significant in-game NFTs for winners, Benji Bananas, a game produced by Animoca Brands, had a rise in unique active wallets of over 2,400% from the previous month.
The Sandbox Alpha Season 3 has over 90 experiences, with 4 million people registered with a wallet, and over 200,000 daily active users.
Move-to-earn projects are gaining popularity and flourishing in this bear market. Sweat Economy minted a record-breaking 10,000 NFTs on Near Protocol, StepApp will be available for iOS and Android on December 1st and, OliveX, the digital fitness company that developed Dustland, collaborated with The Sandbox to develop the fitness Metaverse.
Blankos Block Party and Star Atlas, two online games using NFTs, became the first Web3 titles to be released on the major PC gaming marketplace Epic Games Store.
With over $18 million in sales in September, the digital collectible card game Gods Unchained climbed into the top 5 collections by NFT trading volume.
September's investments were the lowest all year, only $156 million were raised by blockchain games and Metaverse-related projects. However, this month showed us that the industry never ceases to build.
---
More By This Author:
Blockchain Gaming Shows Surging Data With Big Names Coming Into Play
Apple Again Taking Exorbitant Cuts, This Time Eyeing NFT Startups
Crypto Gaming Count For 59% Of All Investments In Video Gaming Sector, Q2 2022
Moreover, it also gets embraced by venture capitalist firms and continues to get noticed by them. The industry data shows a lot of promise in blockchain games and the figures do not lie.
Source: https://talkmarkets.com/content/news/blockchain-games-and-metaverse-projects-continue-growing?post=371373