Fintech
Banking Sector Revolution: 3 Fintech Stocks to Watch
InvestorPlace – Stock Market News, Stock Advice & Trading Tips
Fintech is revolutionizing the banking sector. In fact, artificial intelligence (AI), and blockchain could lead to a far more efficient and accessible system. Fueling the boom, we're already seeing a good deal of global cashless payments. According to PwC, global cashless payment volumes are expected to jump to more than 80% by 2025.
Plus, according to the Pew Research Center, about 40% of Americans have gone cashless, up from 24% in 2015. The number of Americans that still rely on cash is steadily decreasing at the same time, from 18% in 2018 to 14% last year. That benefits the fintech market, which could be worth nearly $699 billion by 2030. That being said, it may be a good time to start accumulating fintech stocks and even ETFs.
FinTech ETF (FINX)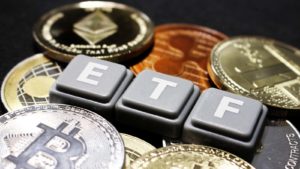 Source: Beneath Blue / Shutterstock.com
When it comes to fast-growing sectors, such as fintech, I always like to diversify and gain max exposure to the industry. With an expense ratio of 0.7%, the Fintech ETF (NASDAQ:FINX) invests in companies on the leading edge of the emerging financial technology sector. This includes industries that are currently transforming, like insurance, investing, fundraising, and mobile and digital solutions.
PayPal (NASDAQ:PYPL), Fiserv (NASDAQ:FISV), Block (NYSE:SQ), Global Payments (NYSE:GPN), and Coinbase (NASDAQ:COIN) are some of its top holdings. Plus, we have to consider that according to Global X, in 2020, the number of online banking consumers was nearing 1.9 billion, and by 2024 that could be up to 2.5 billion—all thanks to the digital transformation of society.
ARK Fintech Innovation ETF (ARKF)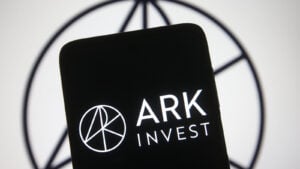 Source: shutterstock.com/viewimage
There's also the ARK Fintech ETF (NYSEARCA:ARKF). With an expense ratio of 0.75%, the ETF invests in fintech stocks that see a significant portion of its revenue or market value from the theme of Fintech innovation.
It has also stated its primary business to be in products and services focused on the theme of Fintech innovation, according to ARK-Funds.com. Some of its top holdings include Shopify (NYSE:SHOP), Coinbase Global (NASDAQ:COIN), Block (NYSE:SQ), and MercadoLibre (NASDAQ:MELI), for example.