Data Science
Analytics and Data Science News for the Week of March 17; Updates from Salesforce, Tableau, TIBCO & More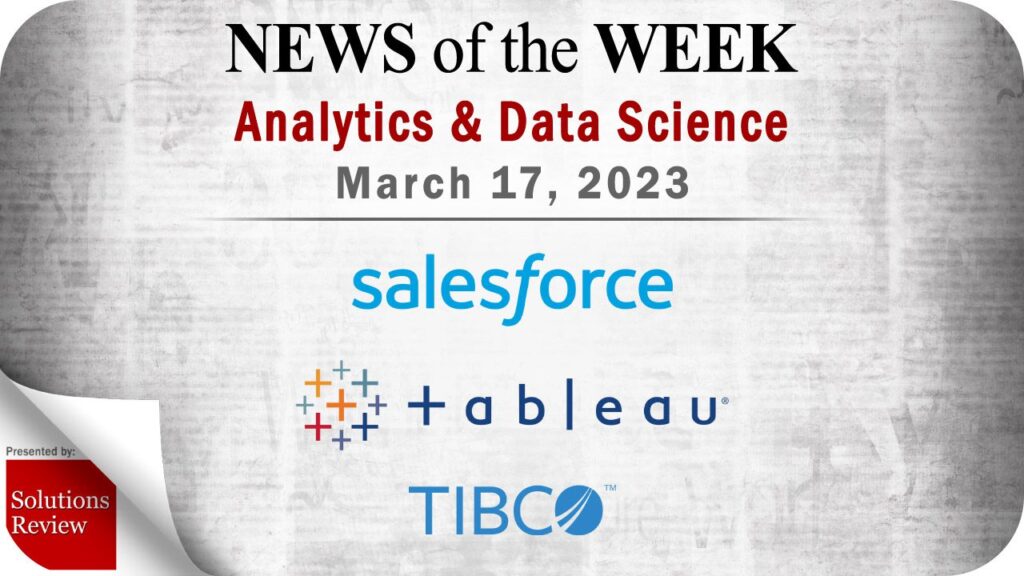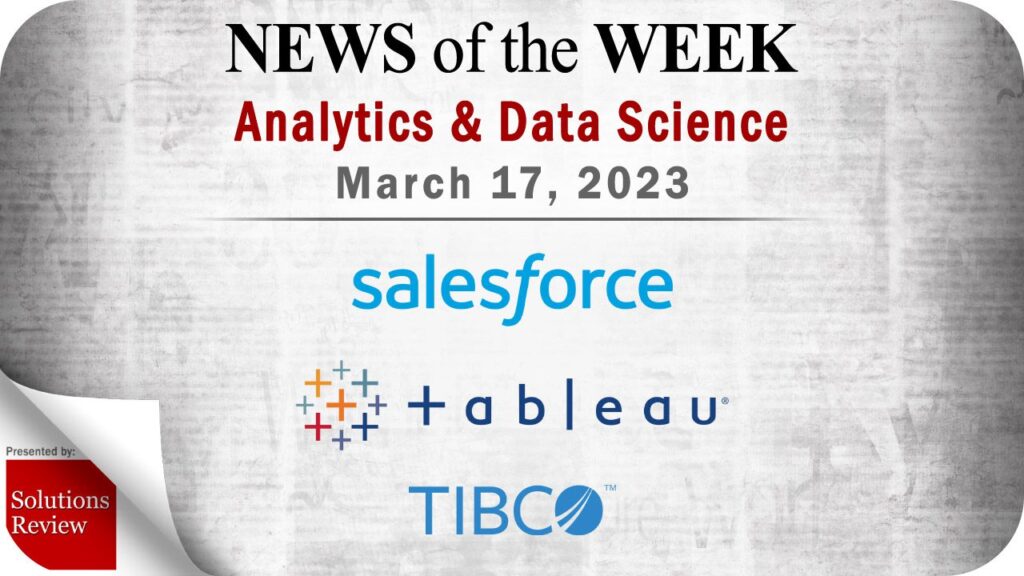 The editors at Solutions Review have curated this list of the most noteworthy storage and data protection news items for the week of March 17, 2023.
Keeping tabs on all the most relevant analytics and data science news can be a time-consuming task. As a result, our editorial team aims to provide a summary of the top headlines from the last week, in this space. Solutions Review editors will curate vendor product news, mergers and acquisitions, venture capital funding, talent acquisition, and other noteworthy analytics and data science news items.
Analytics and Data Science News for the Week of March 17, 2023
[
hr style="single"]
Analysis Services server properties in Power BI Premium are now in general availability
We're pleased to provide an update to the following announcement – Analysis Services server properties in Power BI Premium are now in public preview. At this time, we've transitioned this capability to general availability with full support in Power BI Premium and Power BI Embedded. As mentioned in the public preview announcement, the Analysis Services (AS) server properties gives administrators granular control to optimize and alter query behavior in their workspaces.
hr style="single"]
CelerData Brings New Level of High-Performance Analytics to the Data Lakehouse
CelerData, a unified analytics platform for the modern, real-time enterprise, today announced the latest version of its enterprise analytics platform, CelerData Version 3. CelerData is built on top of the open source project StarRocks, the fastest MPP SQL database – recently donated to the Linux Foundation.
hr style="single"]
DataRobot Unveils New AI Platform, Ushering in the Era of Value-Driven AI
DataRobot today announced the release of DataRobot AI Platform 9.0, along with deeper partner integrations, AI Accelerators, and redesigned service offerings, all centered on helping organizations derive measurable value from their AI investments.
hr style="single"]
KNIME Achieves Premier Tier Partner Status With Snowflake
KNIME announced that it has achieved Premier tier partner status from Snowflake, the Data Cloud company. As a Premier partner, KNIME can help accelerate the digital transformation of its joint customers, who can fully leverage the Snowflake Data Cloud.
PlotGPT: the ChatGPT app that will plot any prompt
In recent years, natural language processing (NLP) has made remarkable progress, and with the development of large language models such as ChatGPT, the application possibilities seem endless. One such possibility is PlotGPT, a tool that can turn any text prompt..
hr style="single"]
Salesforce's New Tableau Capabilities Improve the Flow of Work with Slack Integration, AI-Powered Features
Tableau has launched new features that help customers make data-driven decisions more quickly and efficiently. The new release will further enable companies to put their data at the center of every business interaction, use natural language to add business context..
hr style="single"]
Tecton Releases Notebook-Driven Development, Providing the Fastest Path for Data Teams to Build Batch, Streaming and Real-Time Features for Machine Learning and to Deploy Them in Production Quickly and Reliably
Tecton, the leading machine learning (ML) feature platform company, today announced version 0.6 of its flagship feature platform. The release introduces new capabilities that accelerate the process of building production-ready features and expands support for streaming data.
hr style="single"]
TIBCO Offers New, Highly Immersive Analytics to Scale Data Science Across the Organization
TIBCO, 'a global leader in data connectivity, management, and analytics', empowers the world's most innovative enterprises to solve their complex data challenges and make mission-critical business decisions with greater confidence and impact. TIBCO announced a series of enhancements to its analytics suite, delivering immersive, smart, and real-time analytics that empower
hr style="single"]
TigerGraph Releases New Benchmark Report
TigerGraph has released a new benchmark report for its graph analytics software. The company used the Data Benchmark Council (LDBC) Social Network Benchmark (SNB) Scale Factor 30k dataset. The results show that TigerGraph can run deep-link OLAP style..
hr style="single"]
Expert Insights Section
Watch this space each week as Solutions Review editors will use it to share new Expert Insights Series articles, Contributed Shorts videos, Expert Roundtable and event replays, and other curated content to help you gain a forward-thinking analysis and remain on-trend. All to meet the demand for what its editors do best: bring industry experts together to publish the web's leading insights for enterprise technology practitioners.
Solutions Review Set to Host Alteryx for Exclusive Webinar on April 6
With the next Solutions Spotlight event, the team at Solutions Review has partnered with leading data science and analytics automation vendor Alteryx to provide viewers with a unique webinar called Unlock Cloud Use Cases with the Alteryx Analytics Cloud Platform + AWS.
Data & Analytics Industry Analyst Philip Russom Ph.D. Set to Cover the 2023 Gartner Data and Analytics Summit for Solutions Review
This summit is produced by the world's largest and most influential "think tank" and research firm in information technology (IT), namely Gartner, Inc. Because of its size and long history, Gartner has the unique resources required to develop thought leadership and practical advice for every discipline in IT.
For consideration in future analytics and data science news roundups, send your announcements to the editor: tking@solutionsreview.com.

Tim is Solutions Review's Editorial Director and leads coverage on big data, business intelligence, and data analytics. A 2017 and 2018 Most Influential Business Journalist and 2021 "Who's Who" in data management and data integration, Tim is a recognized influencer and thought leader in enterprise business software. Reach him via tking at solutionsreview dot com.
Analytics and Data Science News for the Week of March 17, 2023
Source: https://solutionsreview.com/business-intelligence/analytics-and-data-science-news-for-the-week-of-march-17-updates-from/