Data Science
Analytics and Data Science News for the Week of January 20; Updates from Power BI, Qlik, SAS Software & More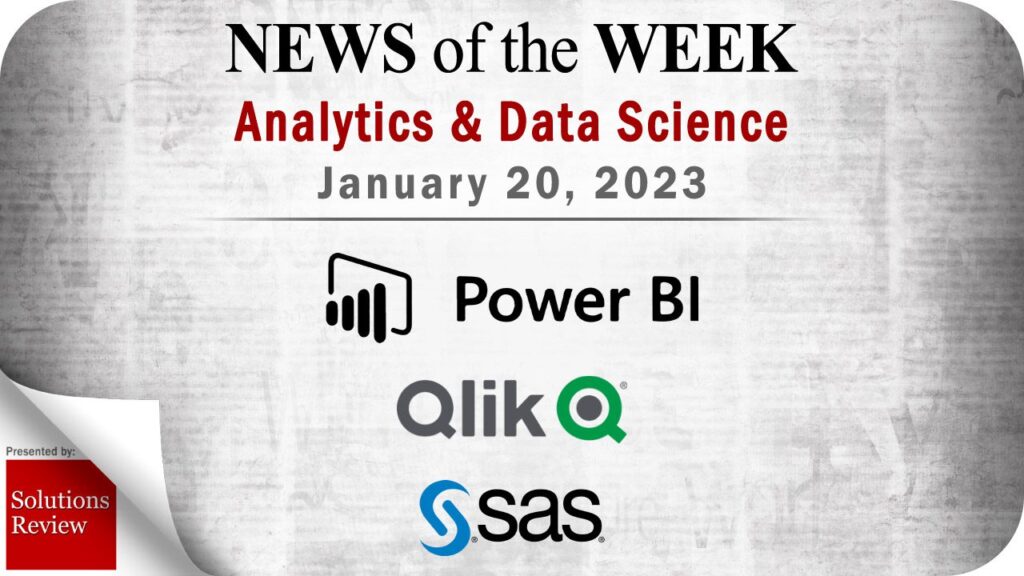 The editors at Solutions Review have curated this list of the most noteworthy analytics and data science news items for the week of January 20, 2023.
Keeping tabs on all the most relevant analytics and data science news can be a time-consuming task. As a result, our editorial team aims to provide a summary of the top headlines from the last week, in this space. Solutions Review editors will curate vendor product news, mergers and acquisitions, venture capital funding, talent acquisition, and other noteworthy analytics and data science news items.
Top Analytics and Data Science News for the Week Ending January 20, 2023
AWS Introduces Account-Level vCPU on EMR Serverless
With this feature, Amazon EMR Serverless provides you with two controls to help manage costs. You can view and increase this vCPU-based quota in the AWS Service Quotas Management console to set the maximum concurrent active vCPUs for all applications in your account.
Cumul.io Raises $10.8 Million in Series A Funding for Low-Code BI Platform
The Cumul.io platform has a low code, drag-and-drop interface with visual dashboards that allow product managers and customer success teams to build and access analytics workflows embedded directly within their applications.
Qlik Teases its Data Analytics & Integration Product Roadmap for 2023
In a blog by James Fisher, he outlines the projected roadmap. This year, Qlik's analytics portfolio will get enhanced visualization and advanced authoring, enterprise reporting, AutoML, augmented analytics, and multi-tenant creation, hydration/management via API automation.
Microsoft Releases Public Preview of Power BI Dataset Scale-Out
The idea is to let Power BI scale the number of dataset replicas and load-balance client connections dynamically to meet query processing demands at critical times up to the maximum available compute resources (vCores) of the underlying Premium capacity.
SAS Software Partners with project44 on Supply Chan Data Analytics
The new retail ecosystem partner collaboration will focus on harnessing supply chain data analytics to minimize disruptions impacting the customer experience. The companies showcased their solution's capabilities at the National Retail Federation (NRF) 2023 Big Show this month.
Sisense Drops 2023 Product Roadmap with the Phrase "Infuse Analytics Everywhere"
Sisense is focusing on delivering data & analytics directly to users within their existing workflows, whether that's by embedding insights into your product or into productivity tools your customers already use.
Tredence Unveils ATOM.AI Integrated Accelerator Ecosystem for Retailers
ATOM.AI is an intelligently engineered platform that leverages AI to accelerate data and analytics modernization. The platform achieves this through its advanced AI/ML capabilities, pre-built feature store, technical notebooks, deep data sets and third-party integrations.
Expert Insights Section
Watch this space each week as Solutions Review editors will use it to share new Expert Insights Series articles, Contributed Shorts videos, Expert Roundtable and event replays, and other curated content to help you gain a forward-thinking analysis and remain on-trend. All to meet the demand for what its editors do best: bring industry experts together to publish the web's leading insights for enterprise technology practitioners.
Solutions Review Launches New Expert Video Shorts Series on YouTube
Solutions Review launched this new Expert Video Shorts Series to meet the demand for what its editors do best: bring industry experts together to publish the web's leading insights for enterprise technology practitioners. The Expert Video Shorts Series will live on the shorts tab on Solutions Review's YouTube channel and be shared socially, like during the Insight Jam!
Solutions Review Set to Host Monte Carlo for Data Observability 101 Virtual Event on January 26
During this presentation, we will discuss how some of today's best data leaders implement observability across their data lake ecosystem and share best practices for data teams seeking to achieve end-to-end visibility into their data at scale.
The One Must-Have Data Visualization Expert Course for 2023
This training will teach you to combine data, visuals, and narratives to tell impactful stories and make data-driven decisions. It should take roughly four months to finish at 10 hours per week.
For consideration in future analytics and data science news roundups, send your announcements to the editor: tking@solutionsreview.com.

Tim is Solutions Review's Editorial Director and leads coverage on big data, business intelligence, and data analytics. A 2017 and 2018 Most Influential Business Journalist and 2021 "Who's Who" in data management and data integration, Tim is a recognized influencer and thought leader in enterprise business software. Reach him via tking at solutionsreview dot com.

Latest posts by Timothy King (see all)
AWS Introduces Account-Level vCPU on EMR Serverless
Source: https://solutionsreview.com/business-intelligence/analytics-and-data-science-news-for-the-week-of-january-20-updates-from-power-bi-qlik-sas-software-more/