Data Science
Analytics and Data Science News for the Week of April 21; Updates from Power BI, Sigma Computing, ThoughtSpot & More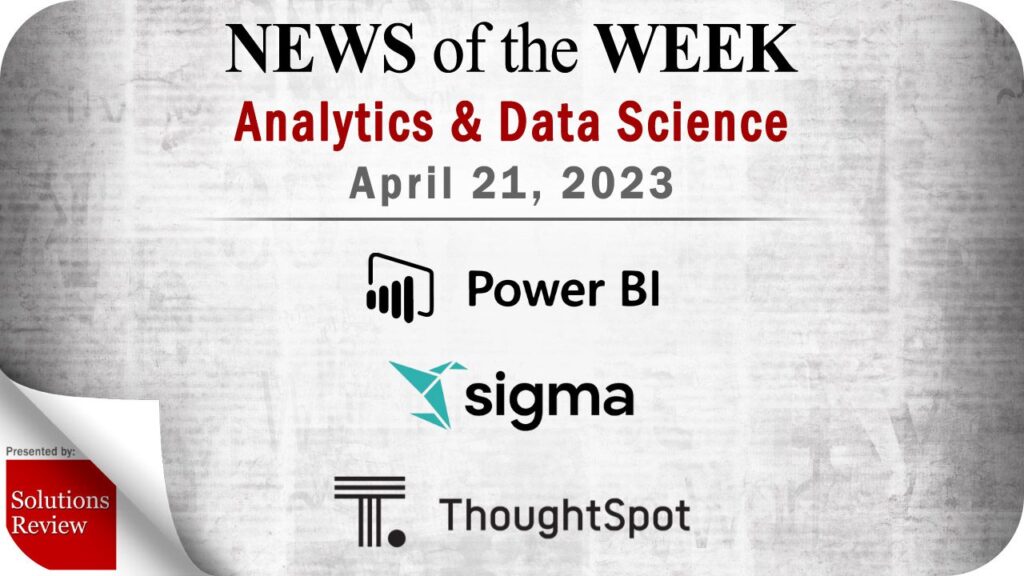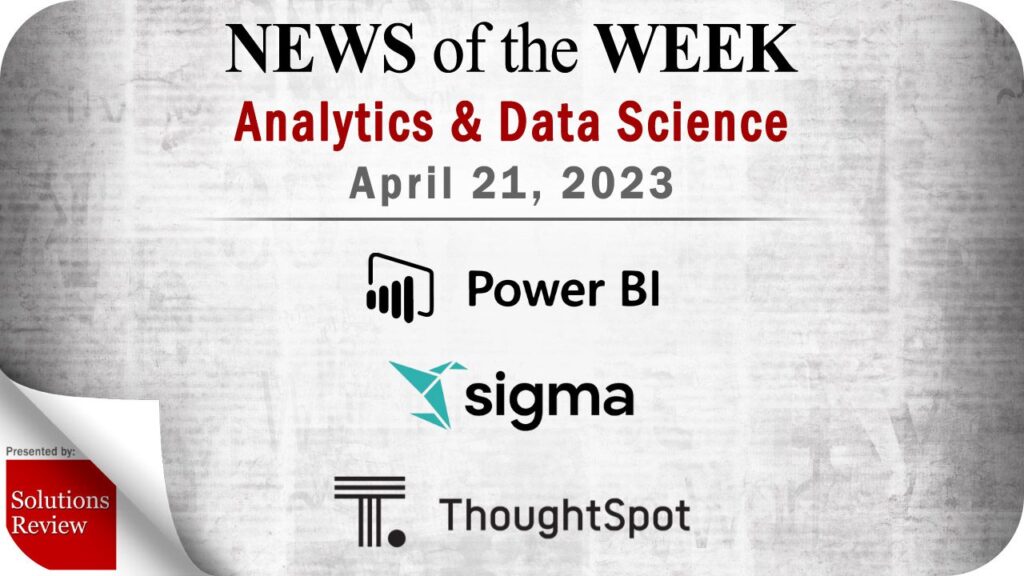 Solutions Review editors curated this list of the most noteworthy analytics and data science news items for the week of April 21, 2023.
Keeping tabs on all the most relevant analytics and data science news can be a time-consuming task. As a result, our editorial team aims to provide a summary of the top headlines from the last week, in this space. Solutions Review editors will curate vendor product news, mergers and acquisitions, venture capital funding, talent acquisition, and other noteworthy analytics and data science news items.
Analytics and Data Science News for the Week of April 21, 2023
[
hr style="single"]
Akridata Unveils Data Explorer in Azure Marketplace
Akridata Data Explorer is a tool that allows data science teams to easily explore, search, analyze, and compare visual data to improve data sets and model training. It is the first platform designed to uniquely focus on processing visual data in the ML lifecycle.
hr style="single"]
Anaconda Announces First Data Science Expo
This event is the first in a series to engage high school and college-level students in building foundational data science and Python skills, regardless of prior experience. The data science industry has boomed over the last decade as the need for data-driven decision-making has grown—boosting data scientist to #3 on Glassdoor's 50 Best Jobs in America for 2022.
hr style="single"]
AtScale Recently Served its One-Billionth Query
The AtScale platform orchestrates analytics queries on cloud data platforms including Snowflake, Databricks, Google BigQuery, Amazon Redshift, and Microsoft Azure Synapse. AtScale's semantic layer solution manages analytics queries from common BI tools and applications, pushing down optimized versions of queries for execution on data platforms, while ensuring that analytics are both fast and cost-efficient.
hr style="single"]
Bedrock Analytics Drops ChatGPT Integration for CPG Insights
This advanced technology has been developed using Open AI's ChatGPT, an open-source AI model that Bedrock has further enhanced to offer an unparalleled solution exclusively designed for the CPG industry. With the latest upgrade, Bedrock now delivers instantaneous and relevant insights to help CPG brands make data-driven decisions in real-time. This upgrade is effective immediately for all customers in all countries and powers most all visualizations & analyses within the Bedrock Platform.
hr style="single"]
Microsoft Introduces Power BI Data Model Editing on the Web
In this preview you can modify your existing data models on the web through actions such as editing relationships, creating DAX measures, and managing row-level security (RLS). Microsoft will continue to regularly release updates to this experience with the eventual goal of parity in modeling capabilities offered in the Service.
hr style="single"]
Sigma Computing Releases New Enhanced Input Tables
With Input Tables, users can now build live scenario models by copying data from their stale, local spreadsheets and turning them into first-class data tables. They can also comment directly into tables, adding a human perspective to data sourced from applications. What that means is a whole new level of predictive analysis is possible.
hr style="single"]
Rockset Announces Natrive Support for Vector Embeddings
By extending its real-time SQL-based search and analytics capabilities, Rockset now allows developers to combine vector search with filtering and aggregations to enhance the search experience and optimize relevance by enabling hybrid search.
hr style="single"]
ThoughtSpot Launches New India Customer Center of Excellence
All the talent acquired are data solutions specialists who will form the India Customer Center of Excellence (CCOE) to support ThoughtSpot's global go to market team and will be responsible for advancing customer outcomes through implementation, adoption strategies, community response management and overall account management and customer success for global accounts.
hr style="single"]
Expert Insights Section
Watch this space each week as Solutions Review editors will use it to share new Expert Insights Series articles, Contributed Shorts videos, Expert Roundtable and event replays, and other curated content to help you gain a forward-thinking analysis and remain on-trend. All to meet the demand for what its editors do best: bring industry experts together to publish the web's leading insights for enterprise technology practitioners.
The Best Udacity Nanodegree Certificates for Data Analytics & Visualization Right Now
The editors at Solutions Review have compiled this list of the best Udacity Nanodegrees for data analytics and visualization. Udacity is perfect for those looking to take multiple courses or acquire skills in multiple different areas, or for those who want the most in-depth experience possible through access to entire course libraries or learning paths.
The Best Udacity Nanodegree Certificates for Data Science & Machine Learning Right Now
Organizations are employing data scientists at a rapid rate to help them analyze increasingly large and complex data volumes. A directory of the best Udacity Nanodegree programs for data science and machine learning, compiled by the editors at Solutions Review.

Tim is Solutions Review's Executive Editor and leads coverage on data management and analytics. A 2017 and 2018 Most Influential Business Journalist and 2021 "Who's Who" in Data Management, Tim is a recognized industry thought leader and changemaker. Story? Reach him via email at tking@solutionsreview dot com.
[hr style="single"]
Source: https://solutionsreview.com/business-intelligence/analytics-and-data-science-news-for-the-week-of-april-21-updates-from-power-bi-sigma-computing-thoughtspot-more/