ADTRAN, Inc. (ADTN – Free Report) recently announced that CSquared selected its optical networking technology to boost high-speed broadband deployment across Liberia. CSquared, the sole infrastructure provider in Liberia, intends to leverage ADTRAN real-time fiber assurance to establish a 350 Km core network infrastructure spanning Liberia to Guinea and the Ivory Coast.
ADTRAN already assisted CSquared with fiber broadband rollout in other parts of Africa such as Togo and Ghana. The recent deal accentuates the growing acceptance of ADTRAN's technology and the expansion of its global footprint, which will likely strengthen its commercial outlook in the long term.
Optical fibers serve as the fundamental infrastructure for modern-day networks and without effective monitoring, high-speed broadband networks are always at a risk of disruption. ADTRAN's Advance link monitoring technology (ALM) enriches service providers with real-time actionable insights, allowing them to quickly detect any fault in the system and ensure rapid response. This significantly enhances network performance, optimizes cost and streamlines operations with improved security.
The FSP3000 open optical system is a low cost, highly scalable solution that ensures high performance communication, with enhanced power efficiency and lower space utilization. ADTRAN will also deliver FSP150 Ethernet access devices to expedite fast, reliable connectivity with minimized latency and reduce network congestion.
Communication infrastructures in many African nations are relatively underdeveloped, making network connectivity inaccessible to a vast portion of the population. With this collaboration, ADTRAN is taking a significant step to boost the digital economy with affordable and robust connectivity and eradicate the digital divide in the region.
ADTRAN continues to benefit from solid demand trends of its network solutions, driven by the accelerated expansion of fiber-to-the-home networks, upgrades to in-home Wi-Fi connectivity and the adoption of cloud-based automation tools. It is focused on becoming a top global supplier of access infrastructure and related value-added solutions from the Cloud Edge to the Subscriber Edge through a broad portfolio of flexible hardware and software network solutions. These products enable customers to transition to the fully-converged, scalable, highly-automated, cloud-controlled voice, data, Internet and video network of the future.
In addition, the company has enabled service providers to leverage the ADTRAN Mosaic Software-Defined Access architecture that combines modern Web-scale technologies with open-source platforms to facilitate rapid innovation in multi-technology, multi-vendor environments. The Mosaic cloud platform and Mosaic OS, combined with programmable network elements, provide operators with a highly agile, open-services architecture. This helps operators to better compete with Web-scale competition by reducing the time and cost to launch new service, technologies and best-of-breed suppliers as they strive to reduce operational costs while creating and deploying differentiated product offerings.
The stock has lost 54.8% in the past year compared with the industry's decline of 11.3%.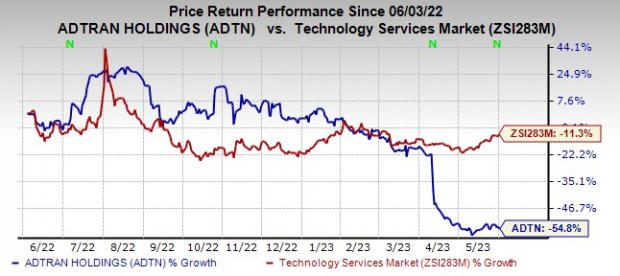 Image Source: Zacks Investment Research
ADTRAN carries a Zacks Rank #5 (Strong Sell).
You can see the complete list of today's Zacks #1 Rank (Strong Buy) stocks here.
InterDigital, Inc. (IDCC – Free Report) , sporting a Zacks Rank #1, delivered an earnings surprise of 170.89%, on average, in the trailing four quarters. In the last reported quarter, it pulled off an earnings surprise of 579.03%.
It is a pioneer in advanced mobile technologies that enables wireless communications and capabilities. The company engages in designing and developing a wide range of advanced technology solutions, which are used in digital cellular and wireless 3G, 4G and IEEE 802-related products and networks.
Akamai Technologies, Inc. (AKAM – Free Report) , carrying a Zacks Rank #2 (Buy), delivered an earnings surprise of 4.86%, on average, in the trailing four quarters. In the last reported quarter, it pulled off an earnings surprise of 6.06%.
It is a global provider of content delivery network and cloud infrastructure services. The company's solutions accelerate and improve the delivery of content over the Internet, enabling faster response to requests for web pages, streaming of video & audio, business applications, etc. Its offerings are intended to reduce the impact of traffic congestion, bandwidth constraints and capacity limitations on customers.
Meta Platforms Inc. (META – Free Report) , sporting a Zacks Rank #1, delivered an earnings surprise of 15.46%, on average, in the trailing four quarters. Meta Platforms is the world's largest social media platform. The company's portfolio offering evolved from a single Facebook app to multiple apps like photo and video-sharing app Instagram and WhatsApp messaging app owing to acquisitions.
Meta is considered to have pioneered the concept of social networking, which is why it enjoys a first mover's advantage in this market. As developed regions mature, Meta undertakes measures to drive penetration in emerging markets of South East Asia, Latin America and Africa.
Source: https://www.zacks.com/stock/news/2103419/adtran-adtn-solution-to-aid-digitalization-in-liberia