Robotics
ABB to show next generation robotic technologies at Automate
Explore the next generation of systems that enable businesses to efficiently adapt production to variable market demands at Booth #5623.
ABB's mission is to provide flexibility and simplicity to companies of all levels of technical sophistication.
ABB to preview two major innovations: two higher payload GoFa collaborative robot variants, and a completely new series of large robots.
ABB Robotics will feature next generation robotic technologies that enable businesses to efficiently adapt production to variable mark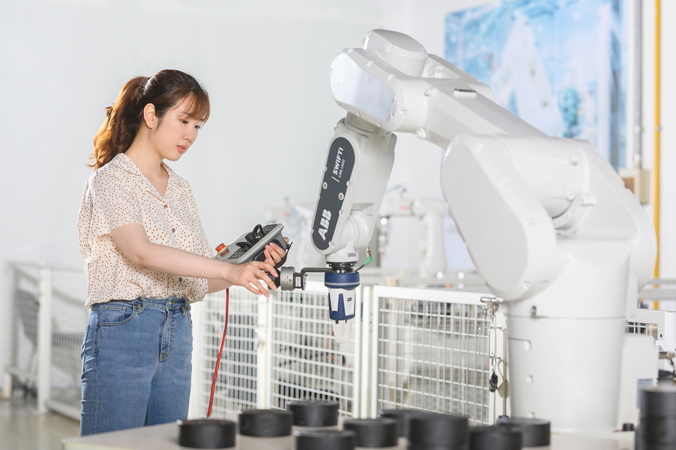 et demands at Automate 2023, May 22-25 at the Huntington Place Convention Center in Detroit, Michigan (Booth #5623).
With an emphasis on flexibility and simplicity, ABB's mission is to provide the benefits of the automation industry's most comprehensive and integrated portfolio of industrial and collaborative robots, Autonomous Mobile Robots (AMRs), and machine automation solutions to companies of all levels of technical sophistication.
"We see a huge demand for automation in the US as companies look to address issues such as labor shortages, consumer demand for personalized products, and the growing pressure to operate sustainably. Businesses of all sizes, across all industries, must be able to quickly adapt their processes to succeed in this period of unprecedented uncertainty," said John Bubnikovich, ABB's US Robotics Division President. "ABB Robotics has been committed to serving the Americas market with robots made in the US since 2015. The current $20 million expansion of our US manufacturing facility will allow us to serve the local market at a higher level, bringing us even closer to our customers as we provide them the technology, expertise and support necessary to transform these challenges into resilient competitive advantages."
Highlights of ABB's Automate booth include demos featuring its CRB 15000 GoFa™ collaborative robot and CRB 1300 SWIFTI™ collaborative industrial robot, newly branded ABB AMRs, a PixelPaint system for efficient two-tone decorative painting, and a printed circuit board assembly cell featuring the Dual-arm YuMi®, ABB's original collaborative robot. Additionally, a STEM Education Package with an accompanying collaborative robot training cart showcases an ABB inititative to inspire students to pursue advanced manufacturing careers while preparing them for the future of work.
Providing a glimpse into the very near future, ABB will also preview major product introductions to be made at the Automatica trade show this coming June in Munich, Germany ­­- two higher payload GoFa collaborative robot variants, and a completely new series of large robots with 22 different variants.
In a whimsical nod to ABB's spirit of innovation, Jessica Ragzy Ewud, a renowned contemporary artist and LEGO® master, will build a full size LEGO replica of the ABB CRB 1300 SWIFTI™ collaborative robot at the ABB booth, with the assistance of a real SWIFTI Cobot and an ABB FlexFeeder™. As a memorable keepsake, Ragzy will prepare a number of kits with all the necessary pieces and instructions for randomly selected ABB booth visitors to build a miniature LEGO SWIFTI of their own.
More detail on ABB's Automate 2023 demos:
CRB 1300 SWIFTI Collaborative Robot
The CRB 1300 SWIFTI industrial collaborative bridges the gap between industrial and collaborative robots. Combining class-leading speed and accuracy with expanded load handling capability of up to 11kg, the SWIFTI CRB 1300 can be used in a wide variety of production and product handling applications. Powered by ABB's OmniCore™ C90XT controller, the SWIFTI CRB 1300 is up to five times more precise than any cobot in its class, making it ideal for tasks requiring consistent accuracy and repeatability.
GoFa Collaborative Robot Welding Package
The new package is a breakthrough solution featuring the Easy Teach Device and Wizard Easy Programming software that empowers first-time robot users to create high-quality welds without the need for in-depth knowledge of robot programming. The new robotic welding package is easy to change from part to part and is well suited for both low volume, high mix, and high volume, low mix operations. It can be used with power source equipment from any of the major suppliers,
GoFa Cobot Plastic Additive Manufacturing with 3D Printing PowerPac
A live 3D printing demo featuring an ABB absolute accuracy CRB 15000 GoFa™ robot equipped with an MDAC1 end-of-arm tool, the flagship smaller-format plastic filament extruder from Massive Dimension. Developed in collaboration with ABB, this demo is perfect for small-scale collaborative robot applications and offers enhanced interaction capabilities. The demo is powered by the 3D Printing PowerPac for ABB's RobotStudio® simulation and offline programming software.
Autonomous Mobile Robots (AMRs)
ABB has transformed Autonomous Mobile Robots (AMRs) with the addition of Visual Simultaneous Localization and Mapping (Viusal SLAM) t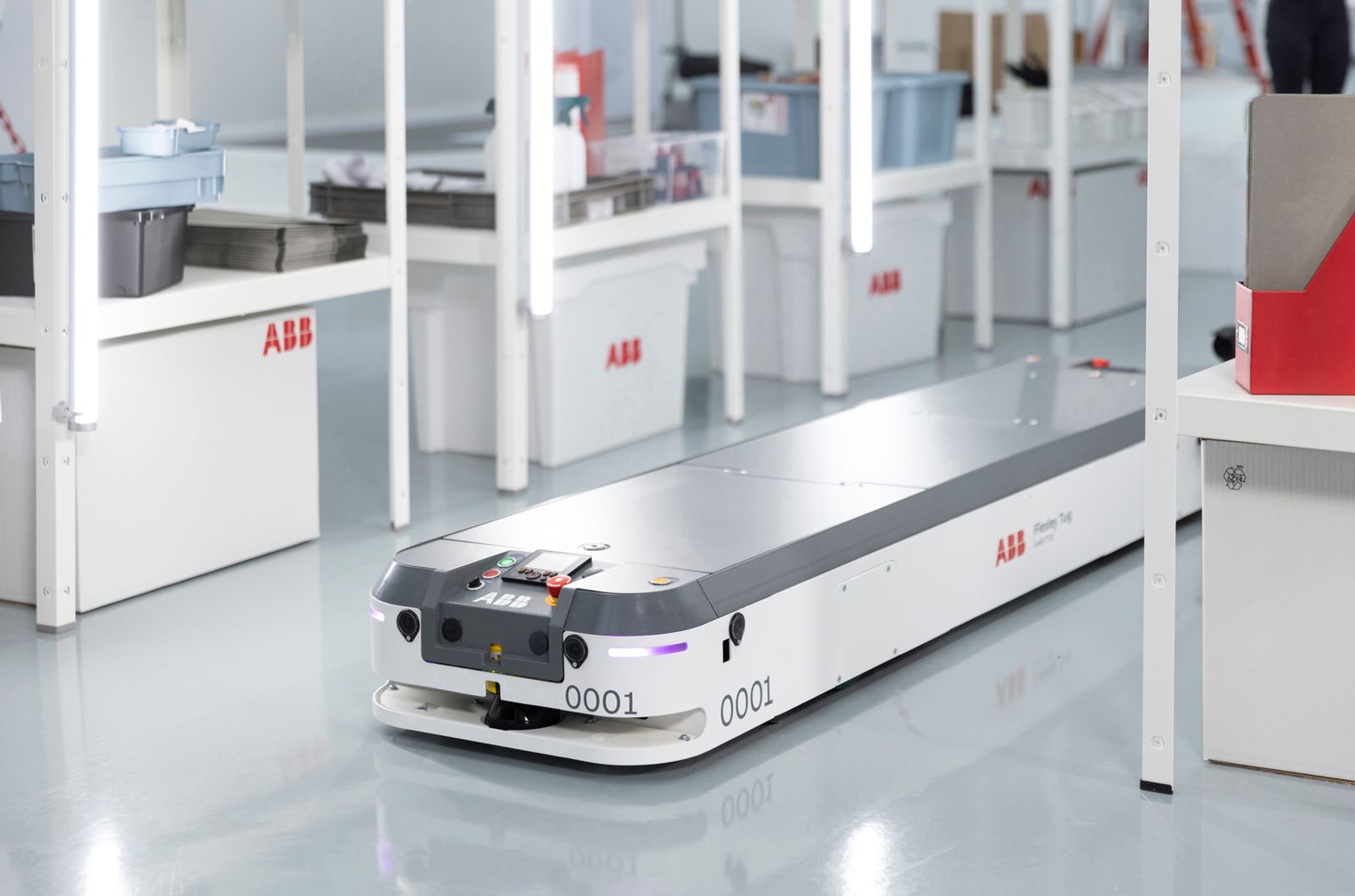 echnology, in collaboration with Swiss-based AI specialist, Sevensense. Enabling a robot to see its environment and make intelligent navigation decisions based on its surroundings, without prior programming or infrastructure, ABB's next-generation AMR technology supports an unprecedented degree of flexibility, from production, logistics, intralogistics and fulfillment through to retail and healthcare environments.
PixelPaint System for Two-tone, Decorative and Decal Painting
PixelPaint is a revolution in vehicle painting technology, with 100 percent transfer efficiency that eliminates the need for masking and de-masking, bringing an efficient solution to the increasing demand for personalized paint designs. The innovative guided paint system also eliminates paint wastage and cuts cycle times by approximately 50 percent, enhancing sustainability and driving down costs.
Dual-Arm YuMi Collaborative Robot PCB Assembly Cell
The Dual-Arm YuMi® Collaborative Robotic PCB Assembly demo highlights an accurate, automated solution to populate printed circuit boards with THT components. Automating THT component assembly with collaborative robots provides a viable option for low to medium volume orders where the investment of insertion machines is not cost effective. It also offers significant advantages to the overly repetitive and the physically stressful manual THT component insertion.
ABB's STEM Education Package with Cobot Education Cell
The ABB Robotics Education Package unlocks the potential of STEM training by providing hands-on robotics experience for students at a wide range of educational institutions. Featuring a collaborative robot cell, comprehensive teacher and student course materials, and a globally recognized STEM certification, the Package empowers both educators and students to get hands-on experience in real-life industrial robotics applications.
To be formally introduced at Automatica June 27th in Munich, Germany
New series of large robots
ABB will be launching a new series of large robots with 22 different variants. The new series will provide enhanced productivity, quality and sustainability across all market segments, including foundry, construction, plastic, electronics, food & beverage, logistics and automotive. For example, the robots will meet the need for car manufacturers to produce batteries of varying sizes, from individual cells and modules to complete packages, as well as high-precision car body assembly, spot welding and the ability to enter tight areas inside a vehicle to install a seat or dashboard.
Higher Payload GoFa
Responding to the ongoing demand among SMEs for high payload collaborative robots which are easy to use and can be deployed quickly, ABB will be expanding its GoFa collaborative robot family with the addition of two higher payload GoFa variants. With this expansion ABB is responding to the emerging demand for high payload cobots that provide increased flexibility, productivity and safety for applications like machine tending and welding.
Source: https://www.automate.org/news/abb-to-showcase-next-generation-robotic-technologies-at-automate-2023