Investors
7 Pet Stocks for Animal Lovers and Investors to Watch
As any pet owner can tell you, pets can be very expensive. There's the food and the vet bills. There's also the damage they can cause to a home. Then there's the toys and even the clothes (yes, 42% of pets owners say that they have purchased clothes or fashion accessories for their pets). But pet parents still love their pets. This will never change, and it's a good reason to consider investing in pet stocks.
According to a report by ProShares, about 85 million families in the U.S. have pets. This is about 67% of all households. It is an increase from just over 55% in the late 1980s. To put this into perspective, only 33 million households have children.
The pet-care industry is broad. It includes food and supply retailers, manufacturers and distributers. It also includes veterinary services, diagnostics and medicine.
Not surprisingly, many companies in the pet-care industry are thriving, and, as a result, pet stocks are soaring too.
And there may be even more gains ahead for pet stocks. Global pet care industry sales were $190 billion in 2018. This is expected to grow by over 40% and reach $270 billion in 2025.
With that in mind, let's take a look at seven pet stocks that will appeal to animal lovers and savvy investors alike:
Pet Stocks: Trupanion (TRUP)

Trupanion (TRUP) provides medical insurance for cats and dogs. The insurance is sold on a subscription basis. The company's customers are located in the U.S., Canada and Puerto Rico. It was founded in 2000 and is based in Seattle, Washington. At the current share price, the market capitalization is about $4.6 billion.
As you can see on the above chart, the recent performance of TRUP has been phenomenal. Back in March, shares were trading around $25. Now they are close to $120. That is an increase of roughly 400%.
However, investors should exercise caution. In 2019, Trupanion posted a loss of more than $1.8 million. That was almost twice as much as the loss of $927,000 that it reported in 2018. If the company continues to loss money, eventually it will have a negative effect on the stock.
Trupanion will report financial results for its 2020 fourth quarter and full year after the market closes on Feb. 10.
IDEXX Laboratories (IDXX)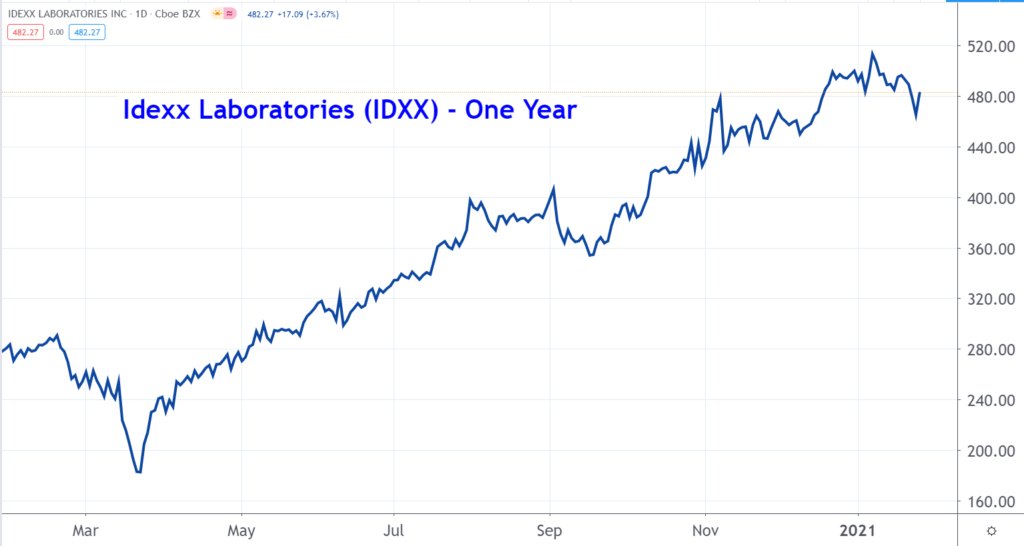 Next on my list of pet stocks to watch is IDXX. IDEXX Laboratories manufactures and sells products and services primarily for veterinarians, in addition to household pets. Additionally, it develops medicines for livestock and poultry. Impressively, the company sells its products worldwide. IDEXX was founded in 1983 and is based in Westbrook, Maine.
As you can see on the above chart, the share price of IDXX dropped to $180 in March. Now it is trading around $475 and looks to be going up from here.
Over the past three years, the company has reported increasing profits. In 2019, gross profit was $1.36 million. In 2018, it reported a gross profit of $1.24 million, and in 2017 it was $1.09 million.
Wall Street loves IDEXX. Four brokerage firms follow and research it. The analysts at Bank of America (NYSE:BAC), Raymond James (NYSE:RJF), Stifel Nicolaus (NYSE:SF) and William Blair all think the stock is still a good buy despite the rally.
The average price estimate is $515.50. That is slightly higher than where shares are currently trading.
Zomedica Corp (ZOM)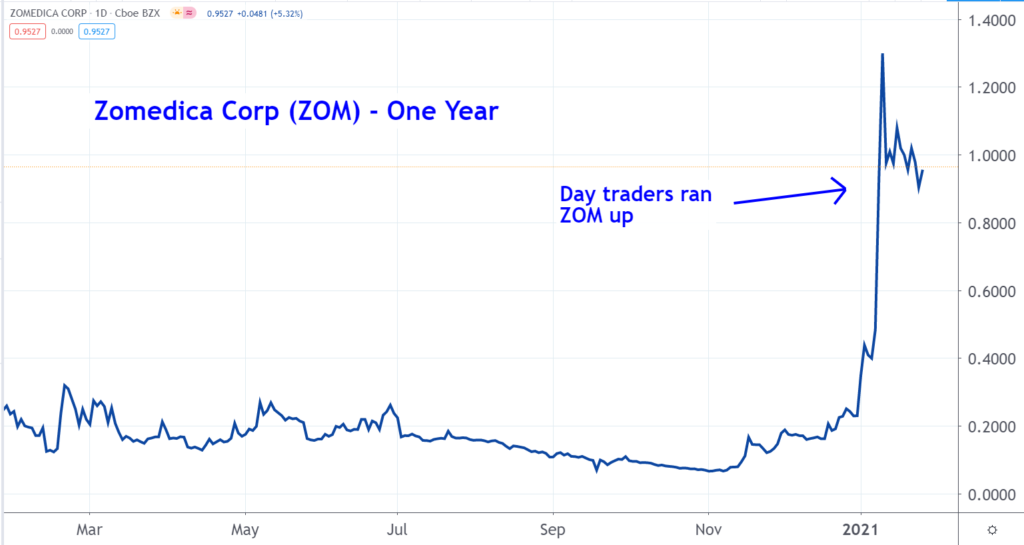 Zomedica is a developmental-stage veterinary diagnostic and pharmaceutical company. It manufactures and sells drugs for companion pets. The company was founded in 2015, and its headquarters are in Ann Arbor, Michigan.
As you can see on the above chart, Zomedica was run up in the recent day-trading frenzy. This means there is a good chance that the stock drops back to where it was when the rally started. As recently as November, shares of ZOM traded for less than 10 cents a share. They reached a peak around the $1.30 level, but they have given back some of their gains. Shares are currently trading around $1.
Investors should be careful with this stock. Zomedica loses a lot of money. And it has gotten progressively worse over the past four years.
In 2019, the loss was $19.8 million. This was a significant increase over the $16.6 million loss in 2018. In 2017, the reported loss was about $8 million, while in 2016 it was $5.7 million.
Freshpet (FRPT)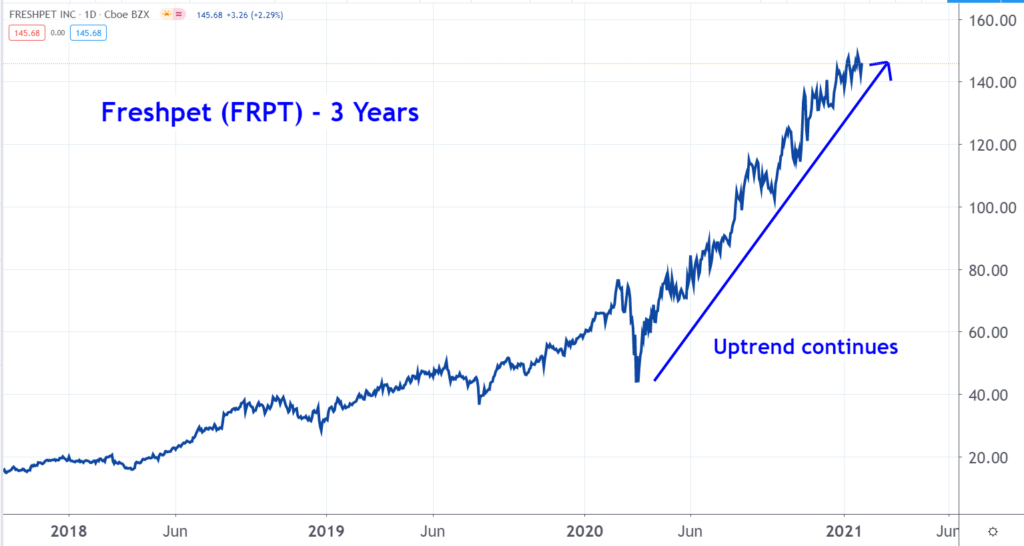 Freshpet manufactures and sells natural fresh products, meals and treats for dogs and cats. The company operates in the U.S., Canada and Britain. It was incorporated in 2004 and is based in Secaucus, New Jersey.
Shareholders of this company have been rewarded over the past three years. Back in 2018, FRPT was trading around $20 a shares. Now it has reached levels over $140.
This has happened despite the fact that the company has reported losses over the past three years.
But the trend seems to be going in the right direction. The loss reported in 2019 was $1.4 million. This was significantly less than the $5.4 million lost in 2018.
Eight of the big Wall Street firms follow Freshpet, and they love it. The average target price is about $146.54. That is right about where it is currently trading.
PetIQ (PETQ)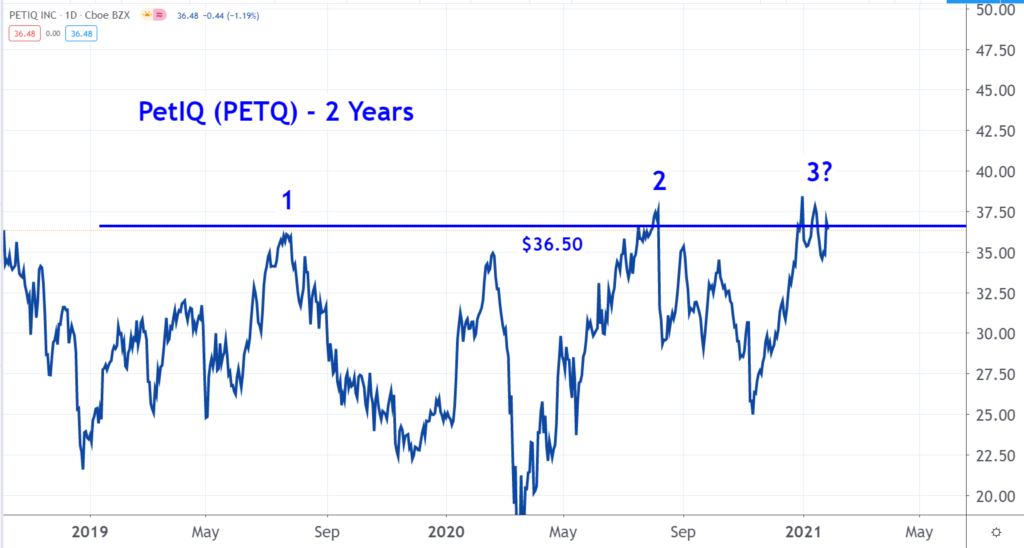 PetIQ is a pet medication and wellness company. It sells prescription pet medications, as well as over-the-counter health and wellness products such as dental treats and nutritional supplements. PetIQ is based in Eagle, Idaho. It was founded in 2010.
As you can see on the above chart, the stock ran into resistance once again around the $36.50 level.
Resistance is a concentration of sellers who have gathered around the same price. When a stock reaches resistance, buyers can acquire all of the shares they need to. They don't have to worry about the price moving higher.
Many times, stocks move lower after they hit a resistance level. That happened with PETQ. But Wall Street loves the stock and thinks that it will eventually break the resistance and trade higher.
The average analyst rating is a strong buy and the average price target is $41.60.
Chewy (CHWY)

Chewy is in the e-commerce business. It offers approximately 60,000 products from 2,000 partner brands through its retail website. The company was founded in 2010 and is headquartered in Dania Beach, Florida. It is a subsidiary of PetSmart.
Chewy went public in June 2019 at $22 per share. But when the stock started trading in the public markets, it opened at $36. After that, it trended down to levels around $22.50 at the end of the year.
But as you can see on the chart above, since then the shares have staged a strong rally. They are currently trading around $102.
There is a chance the rally may be ending, however. Analysts estimate the average price target is about $102 per share, which is right where its shares are currently trading.
PetMed Express (PETS)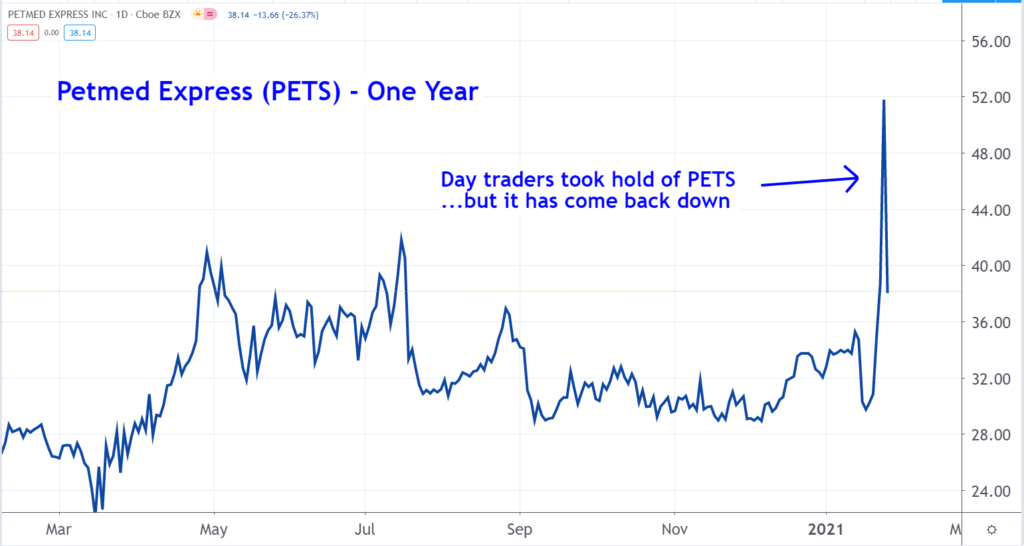 PetMed Express is a pet pharmacy. It sells prescription and non-prescription pet medications and also offers other health products for dogs, cats and horses. It was founded in 1996 and is based in Delray Beach, Florida.
As you can see on the above chart, PetMed stock was jacked up by the day traders.
It was trading in a range around $30. Then, for reasons that had nothing to do with the company's prospects or whether or it was or is profitable, it soared up to $57 per share.
The unlucky investors who paid $57 a share for the stock are now losing a lot of money. As of Feb. 1 it was trading at the $38 level, and it has fallen even further since then.
More than 290 institutions are holders of PETS. There is no doubt that some of them were selling their positions to the day traders at inflated prices.
At the time of this publication, Mark Putrino did not have any positions (either directly or indirectly) in any of the aforementioned securities.
Not surprisingly, many companies in the pet-care industry are thriving, and, as a result, pet stocks are soaring too.
Source: https://investorplace.com/2021/02/7-pet-stocks-for-animal-lovers-and-investors-to-watch/