5G
7 5G Stocks to Keep Your Eye on Through 2021
5G is much more than an incremental next generation of cellular communication. 5G is kicking off one of the biggest waves of consumer smartphone upgrades in years. It's also a key piece of many coming technological innovations, including autonomous vehicles. An investment in 5G stocks can pay off with real growth potential as infrastructure is built out and the technology is integrated into a wide range of products.
I've put together a list of 5G stocks to keep your eye on this year. Each is positioned to benefit significantly as 5G adoption ramps up. And with Portfolio Grader rankings of "A" or "B" and market capitalizations ranging from $35 billion to $2.4 trillion, there's a pick in here for any portfolio.
5G Stocks to Watch: Apple (AAPL)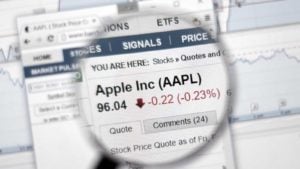 Source: dennizn / Shutterstock.com
Apple delivered monster first-quarter earnings this week. You'd be forgiven for not realizing that we're in the midst of a pandemic that is still shuttering Apple retail stores, wreaking havoc with product shipments, and causing ongoing supply chain issues. Oh, and we're in a recession with nearly 26 million Americans out of work — not ideal conditions for selling big-ticket consumer electronics.
Despite all these challenges, Apple pulled off a record quarter. The company didn't just pass $100 billion in earnings in the quarter for the first time, it blew past the mark with $111.4 billion. That's up 21% year-over-year. AAPL's Q1 obliterated Wall Street expectations. Revenue had been projected to be $103.28 billion, while earnings per share (EPS) of $1.68 was well above the $1.41 estimates.
One of the big catalysts for that monster quarter? That would be iPhone sales, which hit $65.6 billion. There have been predictions that the 5G iPhone 12 series would kick off an "upgrade super-cycle." That seems to be happening. Apple CEO Tim Cook said the company saw more iPhone upgraders than in any previous quarter. With both the U.S. and China — Apple's two largest markets — well into 5G network rollouts, look for iPhone upgraders to continue driving AAPL stock growth through 2021.
Analog Devices (ADI)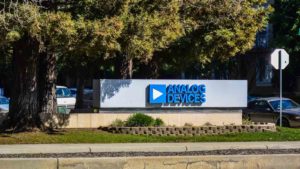 Source: jejim / Shutterstock.com
An investment in Analog Devices is a bet on the continuing rollout of 5G network infrastructure. In particular, the company's expertise in RF radio transceivers is in the spotlight.
5G involves processing and transmitting vastly more data than 4G, but telecoms have limited space and power available in their cell towers. Analog Devices offers a solution for upgrading existing 4G sites to support the demands of 5G:
"[T]his technology integrates the complex, even unwieldy signal chain into a single microchip. By doing so, the challenges of size, power and cost in building 5G cell sites — all key practical barriers to adoption — become substantially more manageable."
In December, Analog Devices announced a partnership with Marvell Technology (also on this list), for 4G/5G units that combine Analog Devices radios with Marvell Technology baseband silicon. The solution (with prototypes arriving later in 2021) will allow telecoms to transition cellular sites to higher capacity 5G at a lower capital cost.
ADI stock has posted gains of 35% over the past 12 months. Growing consumer adoption of 5G is only going to increase pressure on telecoms to expand coverage, keeping ADI's growth going through 2021 and beyond.
Broadcom (AVGO)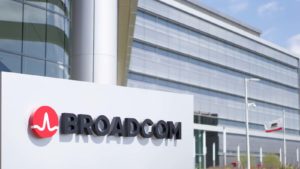 Source: Sasima / Shutterstock.com
Broadcom is in the 5G infrastructure business, supplying system-on-chip (SoC) processors for 5G base stations. With an estimated five million 5G base stations expected to be shipped globally by 2024, winning any chunk of that market is good news for Broadcom shareholders.
However, Broadcom's big win from 5G adoption is going to be in an area where it doesn't actually offer a 5G solution. AVGO supplies a variety of key wireless chips to the smartphone industry, including WiFi and Bluetooth solutions. Apple happens to be one of the company's largest clients. In 2019, the AAPL was estimated to account for 25% of Broadcom's wireless chip business. In fact, rumors were floating that year that Apple might attempt to acquire Broadcom's wireless chip business.
That acquisition never came to fruition. However, with consumers upgrading to 5G smartphones like Apple's iPhone 12, Broadcom's sales will also increase. Those sales are helping to power AVGO stock growth, which as been an impressive 50% over the past 12 months.
Ericsson (ERIC)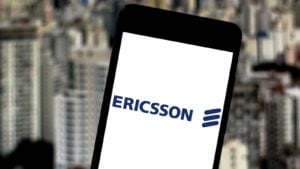 Source: rafapress / Shutterstock.com
Ericsson is a great play on 5G for investors because the Swedish telecommunications company has irons in both the consumer and telecom infrastructure fires.
Thanks to its patent portfolio, every time a company sells a 5G smartphone, Ericsson pockets about $5 in royalties. It's estimated that by 2025, 5G smartphone royalties will be worth $20 billion globally, and ERIC will be one of three companies that snap up 90% of that.
Ericsson is also in the top-three worldwide for 5G network deployments. At this point, the company has 127 commercial 5G agreements in place, with 79 live 5G networks using its technology.
ERIC stock has posted growth of 61% over the past year. With 5G smartphone sales taking off and 5G network rollouts continuing, Ericsson is definitely one of the 5G stocks to watch in 2021.
Marvell Technology (MRVL)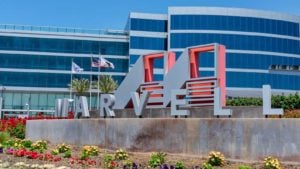 Source: Michael Vi / Shutterstock.com
Semiconductor company Marvell Technology has been making big acquisition moves to bolster its 5G presence. It's also partnering with other companies on 5G infrastructure solutions. These partnerships include teaming with Analog Devices on multi-antenna radio units and with Samsung on multi-radio access technology.
When reporting third-quarter revenue in December, Marvell Technology's CEO told investors:
"Overall revenue increased 13% year on year, driven by our networking business, which grew revenue 35% year on year. Strong 5G and Cloud product ramps are fueling our ongoing success in these strategic growth markets."
MRVL stock has more than doubled in value over the past 12 months. Its investment in 5G technology is expected to continue paying off as 5G rollouts continue across the globe.
Qualcomm (QCOM)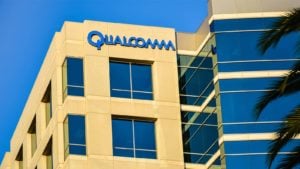 Source: jejim / Shutterstock.com
Count Qualcomm among the chipmakers that are feeling the benefit of growing consumer demand for 5G smartphones. Qualcomm Snapdragon processors — with 5G chips — power most flagship Android smartphones. And thanks to a 2019 agreement, Qualcomm also supplies the 5G radios in Apple's hot-selling iPhone 12.
Long term, there are some potential clouds on the horizon. Samsung has been developing its own mobile processors with integrated 5G radios. China's MediaTek has introduced 5G mobile processors aimed at lower-cost smartphones. And no one would be surprised if Apple switched to its own 5G modems for the iPhone once its current deal with Qualcomm expires in 2025.
However, none of these issues is a near-term threat. With 12-month growth of 76%, QCOM stock is among the 5G stocks to watch in 2021.
T-Mobile (TMUS)
Finally, a telecom that's pulling ahead in the 5G race in the U.S. market. Since its merger with Sprint, T-Mobile has leapt to the forefront of 5G deployment. The company says its 5G service now covers 1.6 million square miles and 280 million people. Its higher speed Ultra Capacity 5G covers 106 million people in over 1,000 cities and towns.
It's not just the coverage where TMUS is winning. Independent testing of 5G networks this month has shown T-Mobile has the fastest 5G download speed among major carriers, along with much higher 5G availability rates than the competition.
That investment in 5G infrastructure appears to be paying off for T-Mobile. In its last quarter, the company reported record-high total net additions and total postpaid net additions, passing the 100-million-customer milestone.
TMUS stock is up 62% over the past 12 months. That growth indicates that the merger with Sprint has paid off handsomely, while the company's nation-leading next-gen cellular network makes it one of the big 5G stocks to keep your eye on through 2021.
On the date of publication, Louis Navellier had a long position in AVGO and TMUS. Louis Navellier did not have (either directly or indirectly) any other positions in the securities mentioned in this article. InvestorPlace Research Staff member primarily responsible for this article did not hold (either directly or indirectly) any positions in the securities mentioned in this article.
Louis Navellier had an unconventional start, as a grad student who accidentally built a market-beating stock system — with returns rivaling even Warren Buffett. In his latest feat, Louis discovered the "Master Key" to profiting from the biggest tech revolution of this (or any) generation.
Source: https://investorplace.com/2021/02/7-5g-stocks-to-keep-your-eye-on-in-2021/