What makes a good cross country shoe
Even at first glance, you will notice that XC models differ from typical running shoes. Here are the four key design components that make cross country shoes a better fit for their intended sport: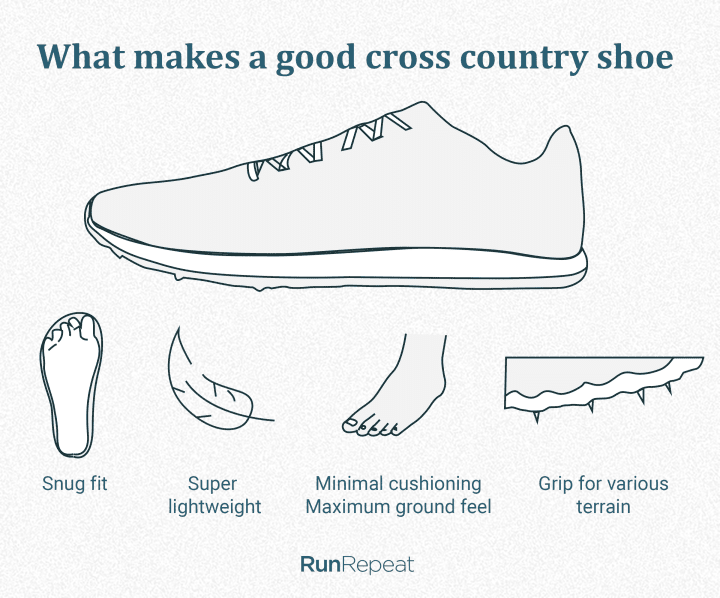 Snug fit. Sleek, streamlined upper feels like an extension of the foot. It's needed for speedy runs, rapid turns, and uneven terrain.
Super lightweight. Around 4.5 oz (130 g) lighter than an average running shoe to keep you feeling fast and agile.
Grip. Rubber nubs or metal spikes bite into mud, grass, and other soft surfaces.
Minimal cushioning. A thin, low-profile midsole is just enough for the cross country race distance. It offers a better ground feel and control. This setup also forces you to land on the forefoot, which is more optimal for speed.
If you are a cross country beginner – start easy!
Putting on your first pair of XC shoes can feel weird or even uncomfortable. Allow your body to adapt to the new sensation that differs from the accustomed plush feel of cushioned running shoes.
Try 100-500 meter runs on softer ground like grass. Also, limit your meet distances to 3 to 5K (2-3 miles) in the first few weeks.
It is possible to have slight soreness in the feet, shins, calves, or Achilles in the beginning, but if the pain aggravates, we strongly advise consulting a doctor.
Best cross country shoes for beginners
XC shoes priced at $70 and below are typically meant for those who are just starting out. Apart from being easy on the wallet, they are also made more friendly for an entry-level runner:
there is a bit more cushioning
the fit is slightly more forgiving
feel more like trainers
Cross country spikes at $100+ are targeted at competitive, varsity, or even elite runners. They have the lightest weight (4-4.5 oz / 115-130 g) and come with some additional technologies that boost performance, like a carbon plate or unique spike designs.
Most beginners might think that spikes are necessary for cross country, but it's not always the case. Find out whether spikes are right for you in the section below.
Spikes vs. flats
Quick answer: If in doubt, choose flats.
XC spikes

XC flats (aka spikeless, waffles)




Pros

better grip for muddy, sloppy, slippery conditions, grass, loose dirt, steep hills
extra traction helps maintain speed during turns

better for courses that include harder surfaces (hard-packed trails, pavement, etc.)
allowed everywhere

Cons

not allowed by some meets and state federations
uncomfortable on hard surfaces

not as much grip as in spikes
A few more points to remember about spikes:
Beginner XC shoes have 4 spikes, while competitive models have 5-8
More spikes = more traction
Longer spikes = more traction
Spikes are NOT allowed in California!
California Interscholastic Federation (CIF) prohibits cross country spikes in California high school competitions. So, athletes in this area must only wear flats during meets.
Aren't cross country shoes the same as track and field shoes?
Not really.
True, XC shoes look very similar to track & field shoes, especially the spiked models. But there are a few principal differences:
Can I use track shoes for cross country? Yes, BUT go with models for long-distance runs and try them out on a practice run before the competition.
Can I use XC shoes for the track? Yes, BUT they work better for longer distances as they are heavier than sprint shoes. They also lack the propulsive stiffness of dedicated T&F shoes.
Getting the right fit in XC shoes
There are a few things you'll notice when trying out a pair of cross country trainers:
there is less room around the toes than in running shoes/sneakers
perfect size could be half-a-size smaller than most of your footwear
most XC models are unisex, so ladies will have 1-1.5 size smaller than the usual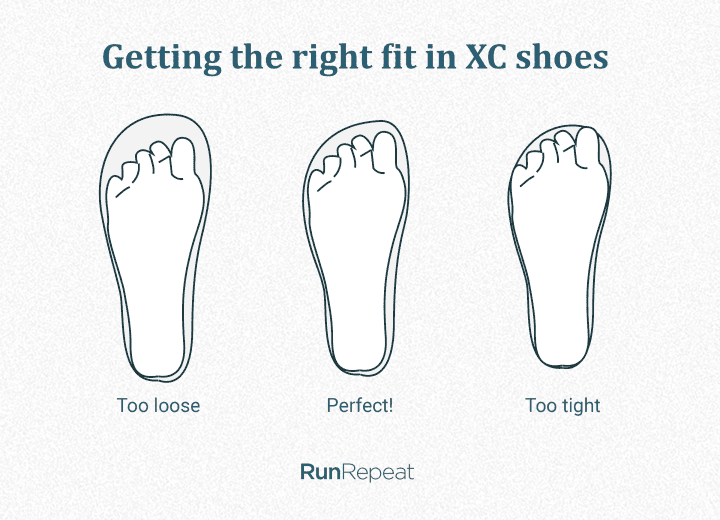 A few more tips on fitting a XC shoe
fit should be snug but not cramped
there is half a thumb space between your longest toe and the front of the shoe
when in doubt, try going with the same brand that you have for running shoes, as sizing could be familiar
if you have wide feet, try Altra Vanish XC, as it has the widest toe box
Other types of shoes for cross country
For practice sessions, especially when you are new to the sport, other types of running shoes could work as an alternative. However, for competitions, it is still recommended to get a proper cross country shoe.
Here are some of the categories that could or must not be used: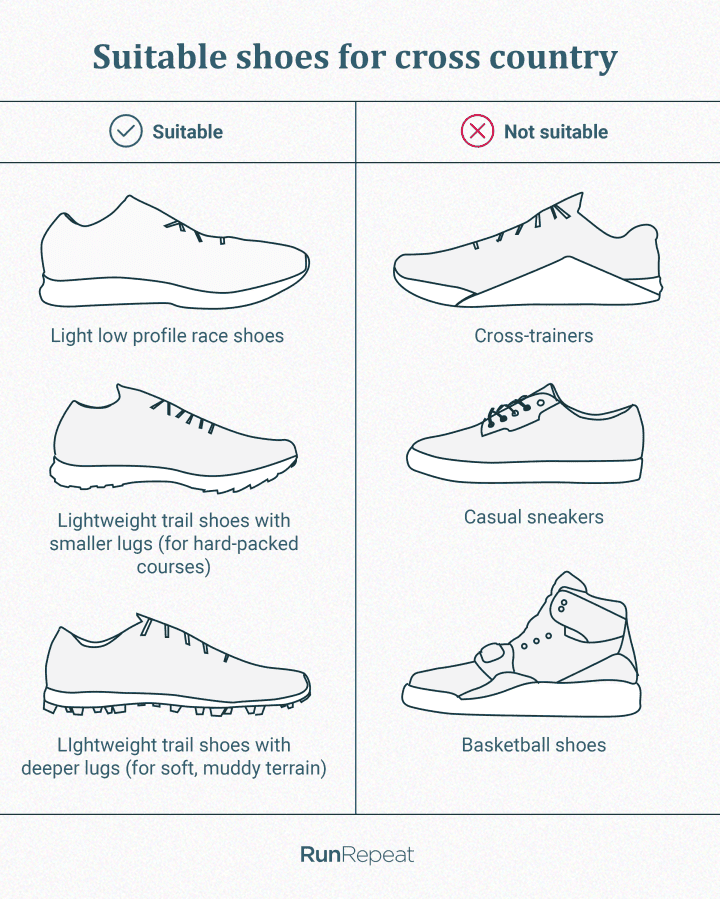 See road race shoes
If you opt for trail shoes, avoid the overly rugged models that are meant for technical terrain, as they are too heavy and cumbersome for the nimble nature of XC.
And if your course includes particularly muddy areas, look for deeper-lugged trail shoes (8mm+). But beware that they are more likely to get clogged than spikes. So, for soft ground, we recommend sticking to XC spikes for the best experience. Thin and deep, they bite into the terrain and let go just as easily.
Snug fit. Sleek, streamlined upper feels like an extension of the foot. It's needed for speedy runs, rapid turns, and uneven terrain.
Source: https://runrepeat.com/guides/best-cross-country-track-and-field-shoes