Product Reviews
11 Best Travel Tote Bags: Smart & Stylish Carry-On Bags (2022)
The best travel tote bags aren't just a practical way to carry travel essentials. They also make traveling easier, more comfortable, and turn it into an opportunity to show off your impeccable fashion sense.
The best travel tote bags rival the best travel backpacks as your on-the-road companions. They are spacious when packing, convenient to transport, and double up as an everyday carry when you arrive at your destination.
Modern women with busy schedules need bags that get down to business. Tote bags do just that. You can even break out your travel tote for grocery shopping, your daily commute, or when you head to the beach with pals.
When it comes to the best travel bags for women, a travel tote just has it all.
Are you seeking a travel tote bag with endless pockets for staying organized and avoiding travel mayhem? A durable tote bag to last you a lifetime? A designer travel tote to score some style points? Or one of the best canvas tote bags for practicality purposes?
Whatever the deal-breaker is for you, here's our list of the best women's travel totes to suit a range of needs and tastes.
The 11 best travel tote bags
Check our ultimate buyers' guide after the list to see exactly what you should pay attention to before purchasing a travel tote bag.
Away The Latitude Tote: Best overall travel tote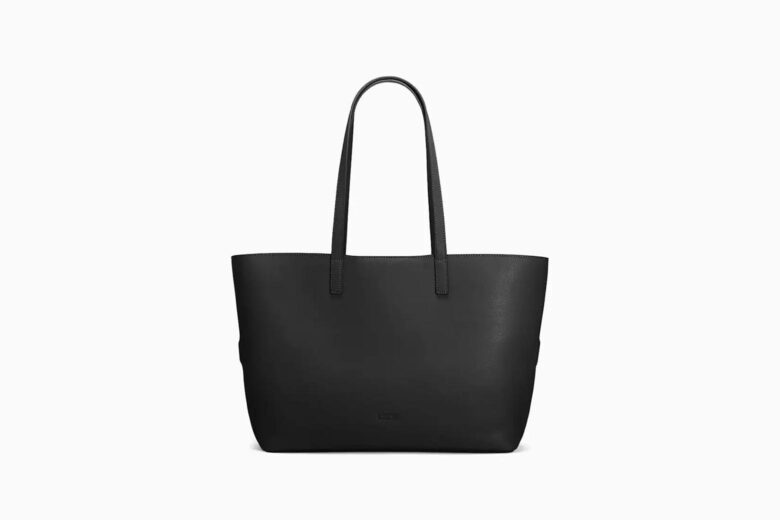 For the travel-savvy individual looking for an all-purpose and ultra-elegant travel tote bag, start with The Latitude Tote by Away.
First impressions of the bag are of a vision of sophistication in premium leather. On closer inspection, the bag delivers on utility and durability too.
There's a detachable zip pouch so you can store the bag in the overhead plane compartment and keep your essentials under the chair in front. A key strap means no more rummaging outside your front door at the end of a trip.
Inside, you can fit a 15-inch laptop as well as all your travel essentials, from toiletries and perfume to snacks, and, of course, an umbrella. Carry it over your shoulder with the long looped handles or secure to an Away suitcase with the trolley strap.
Whether you're after a work-appropriate bag that you can carry from the office to the airport, or a generously sized carry-all for an activity-orientated city break, this bag will do you proud.
| | |
| --- | --- |
| Best for: | A wanderlust-worthy tote that goes above and beyond |
| Colors: | Black, navy, green + more |
KAAI Helix: Best designer travel tote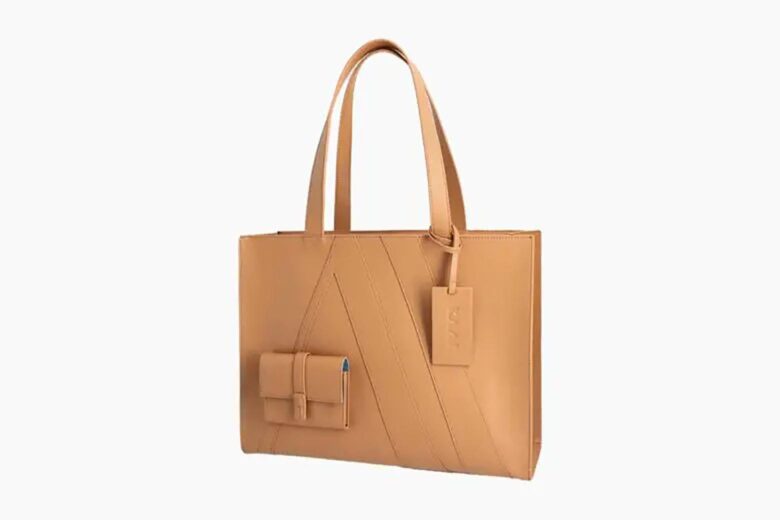 Tell the world you travel in style with the Helix bag by KAAI—no matter the length of your journeys. Whether you're setting off for an exotic retreat somewhere sunny, or are gearing up for an action-heavy city commute, this is a designer travel tote so smart and stylish it's a passport to all the hottest events in town.
Exhibiting KAAI's attention to detail that we know and love, this XL tote features a delectable combination of form and function. Luxuriously lightweight, the Helix is a heavyweight when it comes to organization—multiple inner pockets hold everything from your laptop (up to 15.6-inches) to your glasses, makeup, water bottle, and more. Even better: a special outer back pocket means you will no longer miss any calls.
Oh, and did we mention that it is made from the finest Italian grain leather and that you can carry it comfortably over the shoulder or by the handles? Consider us KAAI super fans at this point.
One of the best carry-on tote bags for international travel, and the perfect accompaniment to a luxury travel outfit (think luxury activewear) or business attire (hello, dream work bag), this is an exclusive carry-all for the most stylish women on the go.
| | |
| --- | --- |
| Best for: | A versatile vanguard of a bag. |
| Colors: | Black, moss green, camel |
Nodykka Women's Tote: Best value travel tote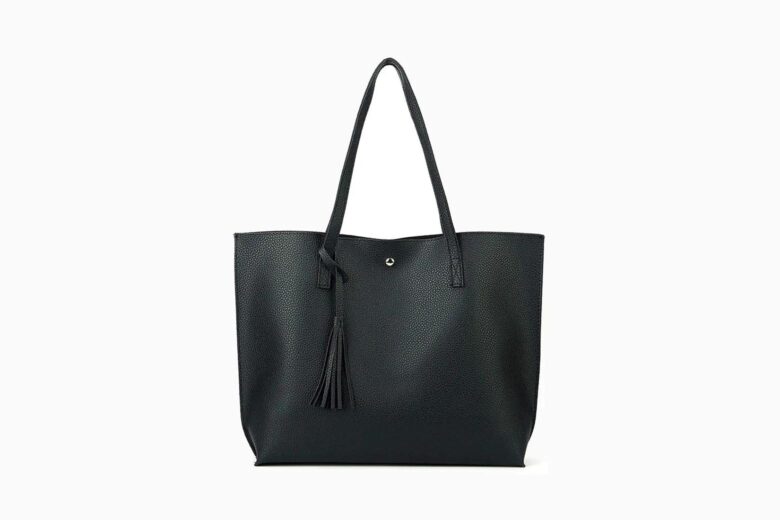 Nodykka's Women's Leather Tote is the answer to budget-conscious travelers everywhere. This top-rated travel tote looks great, can carry all your travel must-haves, and won't break the bank in the process.
The bag is made of top-quality leather with pebble detail and reinforced stitching for added durability. Plus there's a whole range of colors to choose from.
It's big enough to hold a 13-inch laptop or tablet, as well as a magazine, toiletries, sunglasses, a small camera, and any other necessities. The bag is also small enough to fit under the seat in front of you, which means it counts as a 'personal item' tote bag with most airlines.
Whether it's a spa break or a weekend strolling the banks of the River Seine, this bag will fit right in. And you can feel smug knowing you got a good deal in the process.
| | |
| --- | --- |
| Best for: | An affordable bag that doesn't sacrifice durability or style |
| Colors: | Black, blue, brown + more |
Cuyana Classic Leather Zipper Tote: Best travel tote with a zipper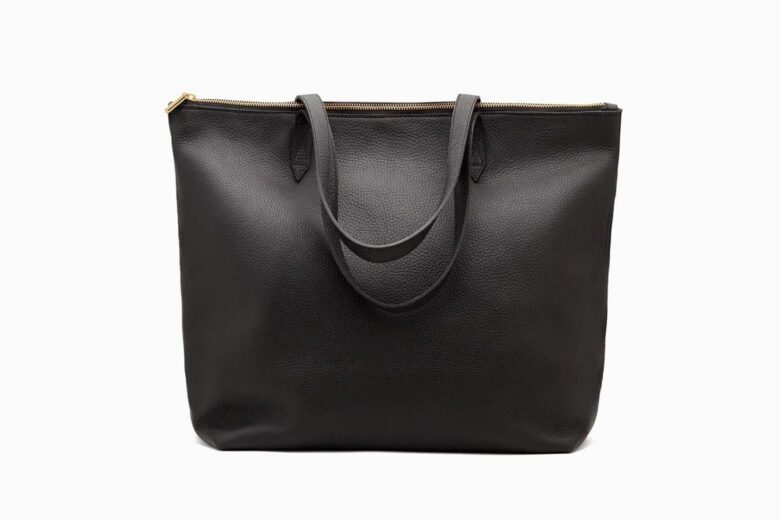 You're setting off on a much-awaited holiday and you want to be assured that nothing's going to go wrong. You need a trusty and secure travel buddy like Cuyana's Classic Leather Zipper Tote.
Unlike many totes with magnetic closures, this one has a secure zipper. Because if you're planning to take your bag sightseeing in busy cities, you want your valuables to be safe from pickpockets.
The bag is softly structured, made from supple and lightweight Argentine leather. You can relax even more knowing that it has been sustainably produced too.
Inside this roomy travel tote, you can fit all your skincare and makeup essentials and can even squeeze in a travel pillow or small laptop.
This travel tote occupies that dreamy half-way house between slouchy and sturdy, striking the perfect balance of casual and sophisticated.
| | |
| --- | --- |
| Best for: | Traveling with peace of mind, knowing all your gear is safe and secure |
| Colors: | Black, burgundy, olive green + more |
Sunny Snowy Laptop Tote: Best travel tote for a laptop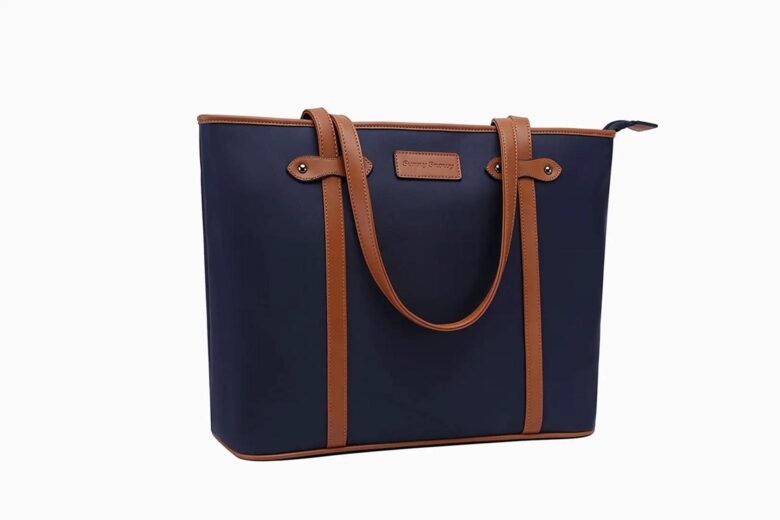 If you like to keep up on emails while you're away, or can't imagine going without access to a streaming service for a week, then you need a way to carry your laptop on your travels.
Sunny Snowy's Laptop Tote can hold a 15-inch laptop, or a tablet, inside a padded laptop sleeve with elastic clasp. So no worries about it getting damaged or scratched.
And the perks don't stop there. This travel tote with pockets has two large ones for books and documents and a zippered one for your phones and keys. So you can effortlessly maintain a professional level of organization even after a red-eye flight.
The bag is made of lightweight nylon and PU leather: hard-wearing, water-resistant, and can be wiped down to clean.
| | |
| --- | --- |
| Best for: | Digital nomads or anyone who needs access to Netflix abroad |
| Colors: | Blue, purple, black + more |
Versace Virtus Leather Tote: Most stylish travel tote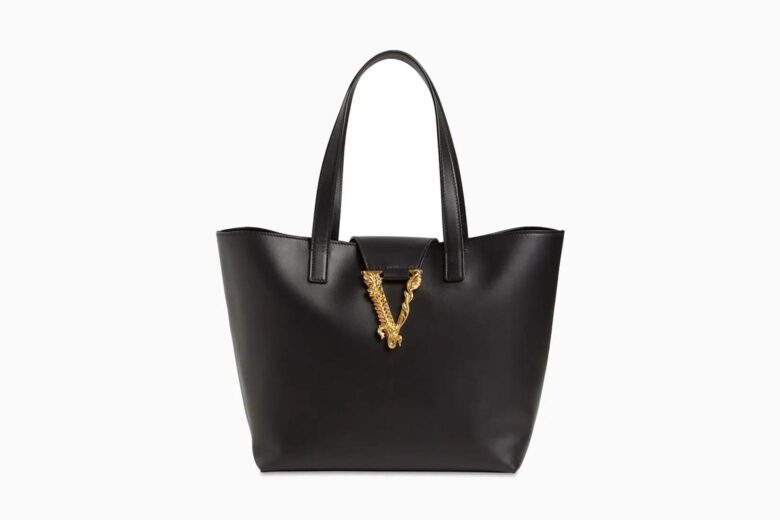 Eager for a bit of sartorial indulgence? The Virtus Leather Tote is just another example of Versace's high-fashion flair.
With its moody black exterior and playful gold V-shaped closure, this bag allows you to make a serious style statement with your carry-on tote. It almost feels like a shame to store it in the overhead compartment where no one can see it.
You've got thick leather top handles for comfortable carrying. There's an internal pocket for valuables. At 36 x 24 cm (14 x 9.5 inches) it might be a bit of a squeeze for a laptop, but it can fit a small tablet.
Whether you're a solo roamer or jetting off for some rest and relaxation with your significant other, this perfect travel bag offers the ideal style-forward sidekick.
| | |
| --- | --- |
| Best for: | Snappy dressers and style hunters seeking an ultra-cool travel companion |
| Colors: | Black |
Bottega Veneta Arco Leather Tote: Best leather travel tote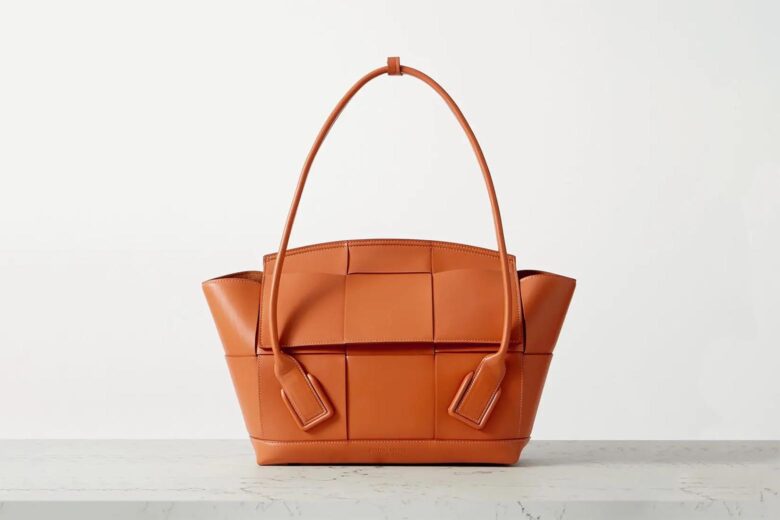 Is there any material more luxurious and timeless than Italian leather? With its sensual caramel or sleek black coloring, Bottega Veneta's Arco Tote is case in point.
The brainchild of highly-acclaimed British designer, Daniel Lee, this designer travel tote is made from strips of textured leather, woven in what has come to be known as Bottega Veneta's signature intrecciato, a painstaking technique that looks fabulous and lasts for ages.
For a lesson in how to make a tote bag look catwalk-ready, this bag has all the pointers. And not only does it look great, but it's supremely practical, too, with expandable sides to optimize packing and a magnetic fastening for easy access.
And, while probably not big enough for a laptop, you could easily fit a Kindle in here. The perfect excuse to leave work at home and go laptop-free for a week.
| | |
| --- | --- |
| Best for: | Timeless elegance for the well-heeled wanderer |
| Colors: | A range of browns and black |
Cuyana Oversized Carryall Tote: Best large travel tote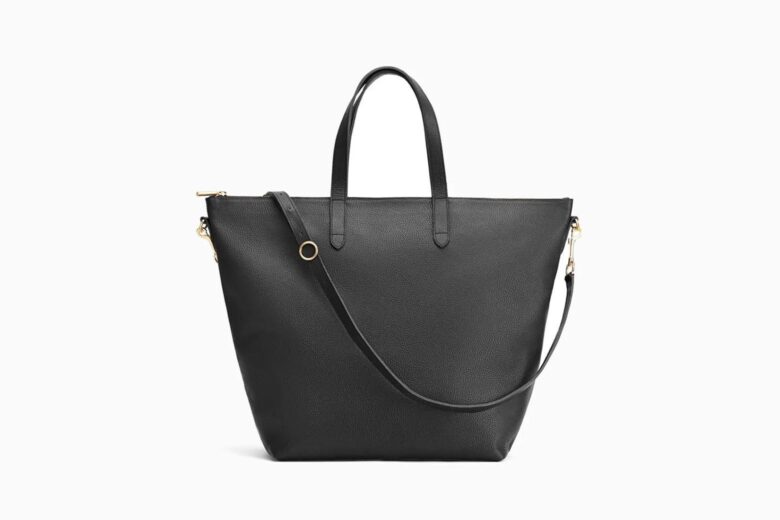 Are you guilty of always overpacking? Not happy unless you've got every single one of your toiletries with you, and a change of outfit for every weather outcome?
Cuyana hears you. Their Oversized Carryall Tote is a hold-all with the emphasis firmly on the all. With this slung over your shoulder, you'll be ready to hit the highway and go wherever the road takes you.
15-inch laptop, chargers, headphones, wallet, keys, passport, toiletries, jewelry—you name it, this bag has space for it. Keep it all secure with the gold-tone zipper.
All getting a bit heavy? Use the detachable strap for easy carrying.
If you're investing in one of the best travel bags for women, you want something versatile. Something that can be used for commutes but also taken on a wild night away with friends or a week-long holiday with family. This bag is up for anything.
| | |
| --- | --- |
| Best for: | Anyone with a tendency to overpack |
| Colors: | Black, navy, and stone grey |
Away Longitude Tote: Best medium travel tote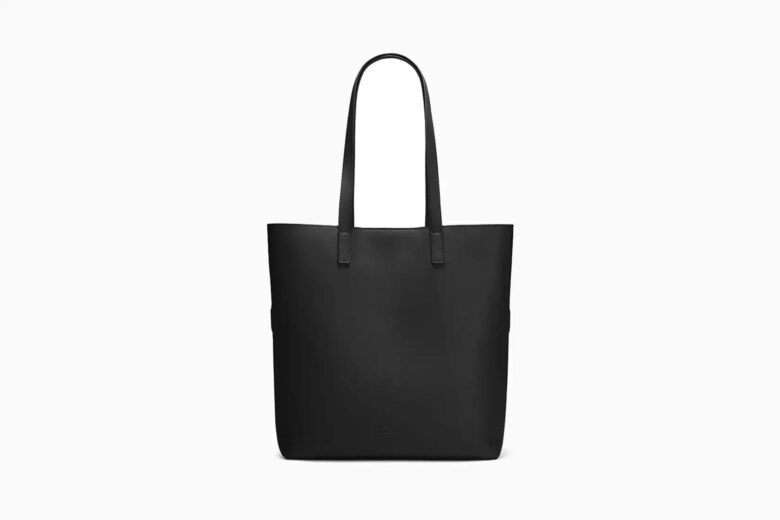 When traveling, it's better to be prepared. So why not err on the side of caution and get a slightly bigger bag? Nothing giant and unwieldy but something spacious and accommodating.
We're talking about Away's Longitude Tote. It's big enough for a 13-inch laptop, or a tablet, and all your onboard essentials like toiletries, earplugs, and a sleep mask. Basically, it's a do-it-all kinda hold-it-all.
Store your phone and boarding pass in the detachable zip pouch for easy access. And use the trolley straps to secure it to your suitcase for comfortable transportation.
In the pink-cream color, we can also see this bag being used on the beach or as a poolside companion. There's space for suncream and a sarong too.
From work to weekend trips away, this is the ideal multi-purpose tote bag and a perfect travel bag. Its grab-and-go vibe makes it great for impulsive travelers who like to fly by the seat of their pants.
| | |
| --- | --- |
| Best for: | A solid getaway bag for the modern globetrotter |
| Colors: | Black, navy, green + more |
Covelin Women's Canvas Crossbody Tote: Best budget travel tote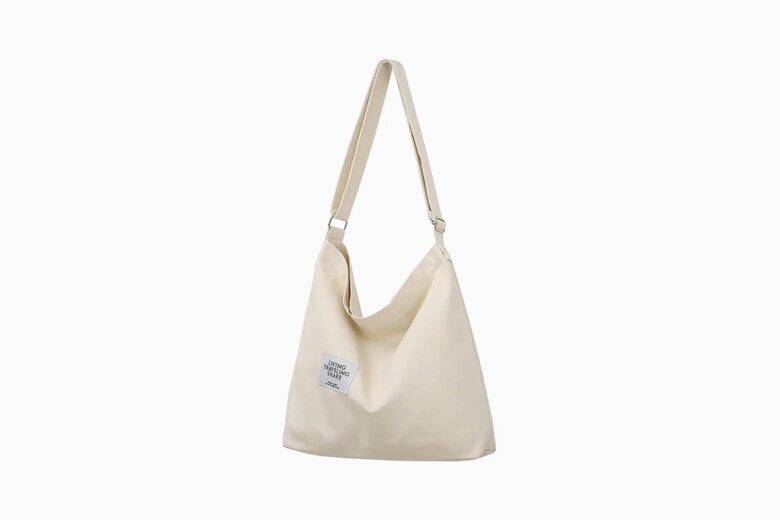 Budget buys usually involve a compromise. Not so with Covelin's Women's Canvas Travel Tote, which is one of the best canvas tote bags. Take it to the office, to the airport, on the train, or to the beach.
Made of soft canvas, it's easy to wash. Canvas also makes it a durable tote bag, as well as a lightweight one.
Carry it over your shoulder, or across your body using the adjustable strap. It's a little bit small for a laptop but could fit an iPad or tablet as well as any other everyday essentials like books, phones, wallets, charging cables, and a sweater.
From weekend jaunts in the country to jam-packed sightseeing itineraries, Covelin's Tote can handle it all. Just pair with some comfortable but stylish walking shoes, and you're ready to go.
The best bit? Its unstructured shape means it can be easily folded away when not in use.
| | |
| --- | --- |
| Best for: | Budget-conscious vacationers seeking something inexpensive but elegant |
| Colors: | Beige, black, blue + more |
Bottega Veneta Woven Leather Tote: Most expensive travel tote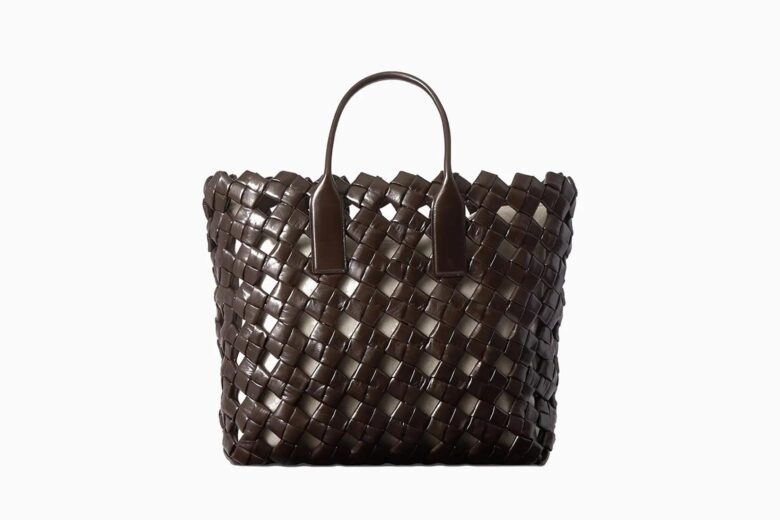 Splashed out on a trip of a lifetime to somewhere exclusive and exotic? Complete the picture with a luxury travel tote like Bottega Veneta's Woven Leather Tote. This is an investment bag purpose-built for five-star stays and upscale escapades.
Created in dark brown calf leather and with the brand's iconic intrecciato exterior, this designer travel tote is opulent without being conspicuous or showy. Use it for everything from business trips and client dinners to sophisticated city getaways.
At 36.6 x 41.7 cm (14.4 x 16.4 inches), it could hold a small laptop. And the inside features a durable ecru canvas lining to keep all your belongings safe and secure. Once you've got it loaded up with all your essentials, make use of the adjustable strap for comfortable carrying.
| | |
| --- | --- |
| Best for: | Travelers and holiday-makers with a penchant for life's finer things |
| Colors: | Dark brown |
Buyers guide: what to look for when buying a travel tote bag
When it comes to buying a travel tote bag, there are a few things to look out for. It all depends on what kind of traveler you are, and how you plan to use the bag. The main aspects to consider are: size, materials, security, plus some handy additional features.
Size and shape
The size of your travel tote will depend on what exactly you intend to carry. If you plan to use it for traveling alongside a suitcase, you need to consider what you want to take on board as your carry-on luggage.
It is likely that this will include: toiletries, snacks, earbuds, charging cables, a reusable water bottle, and perhaps your laptop. Bear in mind that not all tote bags can fit the larger 15-inch laptops.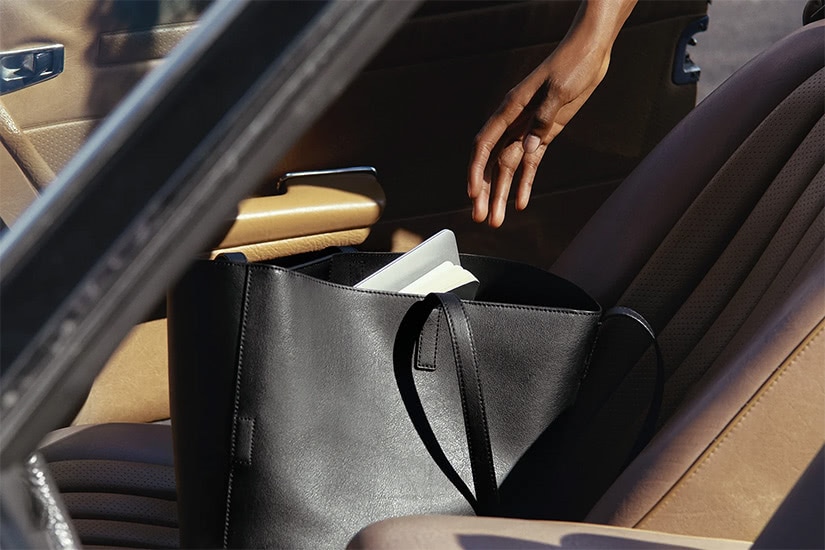 Materials
In terms of materials, you want to look for durability and high quality. Many of the travel tote bags on our list are made from premium leather, so you can be assured that they are long-lasting and can withstand some wear and tear.
Other options include a nylon travel tote, which has the advantage of being both tough and lightweight. Then there's canvas, which is machine-washable, lightweight, and soft-structured, so you can really bulk it out.
You might also want to look for bags with reinforced stitching and corners, especially if you plan to use the bag every day.
Finally, consider water-resistant bags, especially if you want to commute with your tote bag on a regular basis.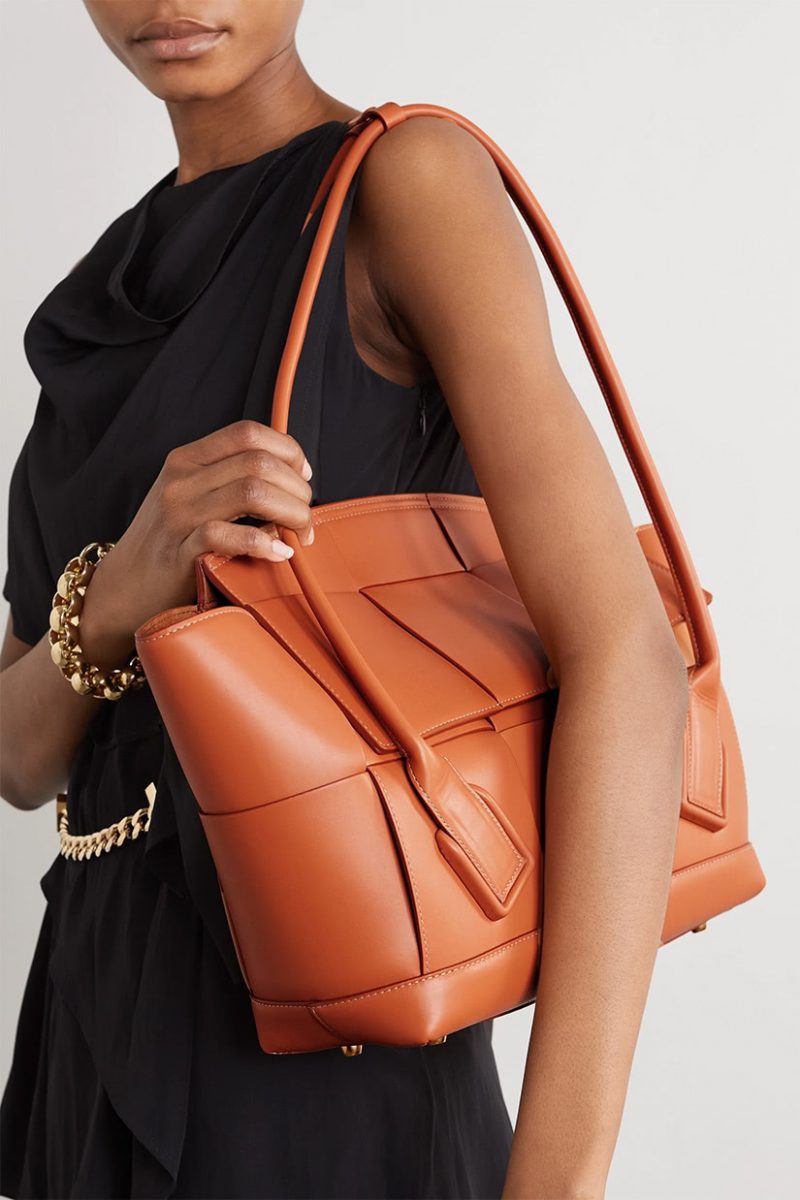 Security
To keep your belongings secure when you're on the move, you may want to buy a travel tote with a zipper. Many tote bags simply have a magnetic closure which is great for easy access but isn't that secure in crowded places or on public transport.
You might also want a bag with an internal zippered pocket for valuables like your phone and wallet.
In addition to the above, there are a few other features that the best travel tote bags have:
Key leash – attaching your keys to a leash means no more rummaging outside your front door after a long day on the road.
Pockets – staying organized when traveling is key. Additional compartments and pockets allow you to stay on top of all your vacation essentials.
Detachable pockets – many of the bags on our list feature detachable inner pouches that are useful if you want to store your bag in the overhead lockers on a plane but keep your valuables close to hand.
Laptop sleeve – if you want to carry your laptop around, having a padded laptop sleeve to keep it separate from everything else ensures no damage or scratching.
Additional straps – a longer detachable strap gives you the option to carry your tote crossbody, a great choice for long-distance. If you plan to be on your feet all day sightseeing, you'll want to give your shoulders a break.
Metal feet – some tote bags feature metal feet so you can stand your bag on the ground without it toppling over. The feet will also minimize abrasion to the bottom.
Frequently asked questions about travel tote bags
Are tote bags good for travel?
Tote bags can be a great choice of travel bag because they are so versatile. They easily meet airline requirements for carry-on luggage and are flexible in structure, so you can bulk them out. When you arrive at your destination, you can stash them away or use them as your everyday carry.
How do you pack a tote bag for travel?
When packing a tote bag for travel, first make sure to read airline rules and regulations about carry-on items. Then make a list of onboard essentials—like headphones or an eye mask—as well as everything you need easy access to and anything that is too valuable to store in the hold. Put your liquids in a plastic bag to save time at the airport.
Is it better to travel with a backpack or suitcase?
Choosing to travel with a backpack or suitcase depends on your particular travel style and destination. Travel backpacks are ideal if you're going to be walking over uneven terrain or through crowded streets. Suitcases are lockable, hard-wearing, and good if you plan to take a lot of heavy gear as you can roll them. Rummaging around to find things is also easier in a suitcase.
Source: https://luxe.digital/lifestyle/travel/best-travel-tote-bags/