Virtual Reality
100-year-old grandma cries tears of joy at seeing hometown in virtual reality
A video of a grandmother, aged 100, having an emotional response to seeing her hometown cathedral via virtual reality has gone viral online, having garnered more than 2.6 million views.
The heartwarming clip, which was shared to TikTok by a woman called Michelle, known on the app as Schellywelly, begins with an elderly lady sitting on a sofa.
Text overlaying the footage reads: "Showing my 100 year old Armenian grandma the Etchmiadzin Cathedral in virtual reality."
The camera then cuts to the grandma wearing a VR headset, as she is being told to look around her.
Overcome with emotion the woman begins saying "it's so beautiful," before appearing to let out a sob, then wipe her face with a tissue.
A man's voice asks why she is crying and the 100-year-old responds again: "It's so beautiful!"
The Etchmiadzin Cathedral is located in the Armenian city of Vagharshapat, which is where the grandmother grew up, and it is thought by some scholars to be the oldest Christian cathedral in the world.
Michelle captioned the adorable footage, which can be watched here, writing: "She is the most precious sweetheart [sad-face emoji] #fyp #cute #grandma #armenian #armenia."
Since the video was posted to TikTok on November 26 it has gained lots of traction online, having received more than 520,100 likes and surpassing 6,540 shares.
More than 2,800 people also rushed to the comments section to share their thoughts on the video, with many finding it adorable.
One TikTok user, Manimakes2378, wrote: "I love seeing older people interact with technology."
Another person, Simplysisii, added: "Aww my heart bro [sad-face emoji] she's the sweetest."
Unrealistic_human typed: "This is so heart-warming," alongside a string of red-heart emojis.
Theodoros opined: "Y'all don't understand how much she's seen over 100 years…"
SG stated: "Not a day this app doesn't make me cry. God bless her and all."
Mohamed G. Dessouky revealed: "I'm Muslim and this touched me, may God keep her for you for many more years."
Hasmik gushed: "They are our treasure! We have to keep them safe at all cost! May God give her health to stay with us."
Happy_adriana commented: "This. This is what VR should be used for."
Simardeep Dhall gushed: "Beautiful way to use the technology! God bless."
J.wilson9 revealed: "My Grandmother was Armenian and past away a little over a year ago. They could pass as twins and seeing this video brought tears to my eyes."
To this, Michelle responded: "Yess!! We were so excited when we realized we could show her where she grew up."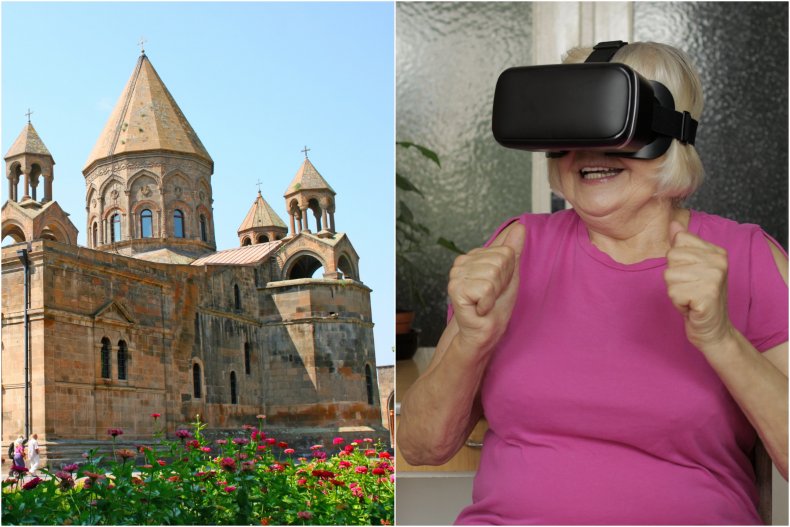 Source: https://www.newsweek.com/100-year-old-grandma-cries-tears-seeing-home-town-virtual-reality-viral-tiktok-1654423