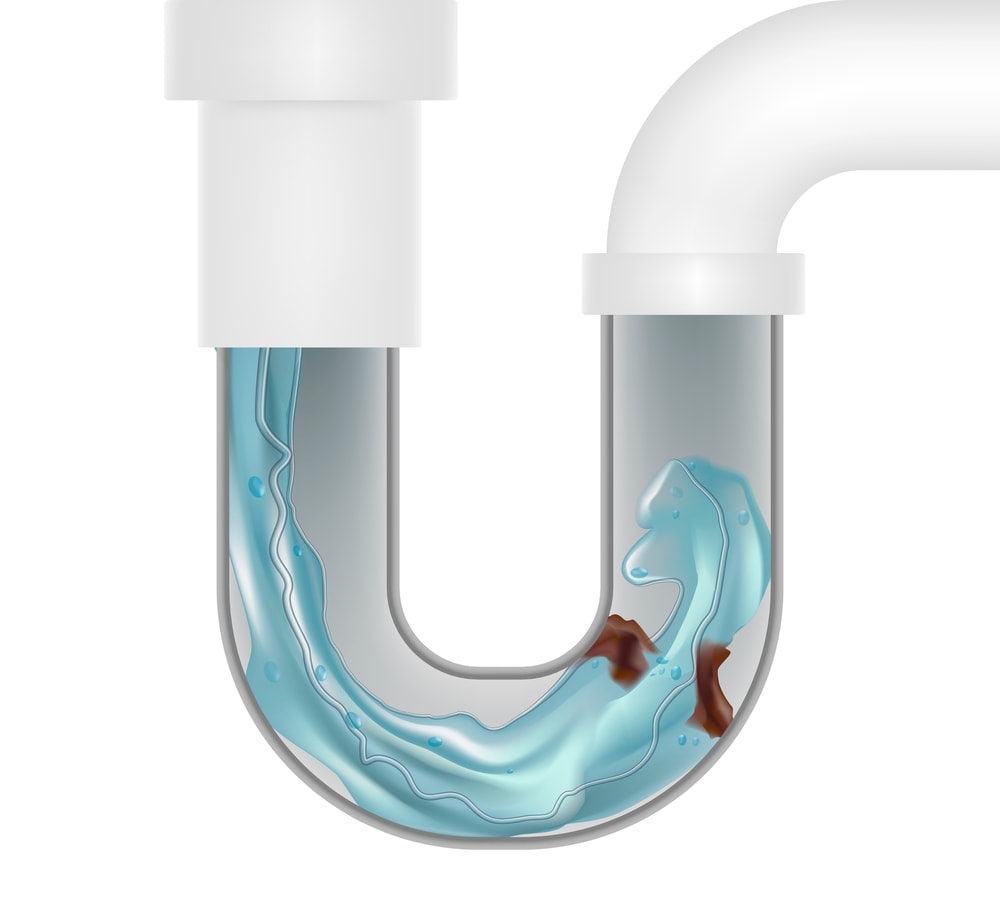 A clogged drain is a nightmare that affects many people. Whether it is a clogged drain in your shower, a plugged-up toilet, or just a slow kitchen sink, the possibilities for expensive repairs are endless. If you want to avoid a service call or a nasty mess in your bathroom, a liquid drain cleaner is a good option.
These fast-acting formulas can break up stubborn blocks that make your plumbing life miserable. Unfortunately, some of the brands out there are not good for your pipes, they have strong chemical odors, or they plain old don't work.
Finding the right option can be tough. Not to worry, though, we have done the hard work for you! We have found the 10 best liquid drain cleaners available. Our reviews below will go over things like chemical fumes, effectiveness, pipe safety, and much more. We also provided a buyer's guide to give you even more info on the subject.
---
A Quick Comparison of Our Favorites in 2023
The 10 Best Liquid Drain Cleaners
1.

Green Gobbler Drain Clog Remover — Best Overall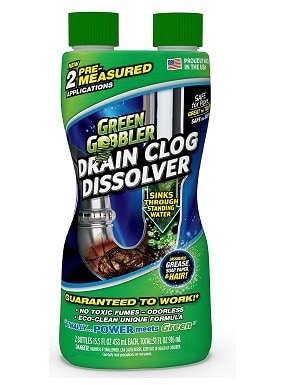 Our first pick is the Green Gobbler GGDIS2CH32 Drain Clog Remover that comes in a 31-ounce bottle and has two pre-measured applications. This liquid will dissolve hair, soap scum, paper, and grease to keep your drains open and running smoothly. It is highly effective and will not cause any damage to your piping system.
The Green Gobbler works within minutes to unblock your showers, tubs, toilets, kitchen sinks, and much more. This option has a low odor. It is non-caustic and does not have any sodium hydroxide or bleach. Regardless of how deep your block is, this product will do the trick, and it is our favorite drain clog remover. For this reason, we think this is the best liquid drain cleaner available this year.
Pros
Works within minutes
Safe
Versatile use
Safe for all piping systems
Low odor
Removes all clogs
---
2.

Instant Power Drain Opener — Best Value

The Instant Power 1969 Drain Opener is the best liquid drain cleaner for the money. This one-liter bottle uses a unique combination of ingredients to melt grease and hair away to unclog your drain. It is safe for all different types of plumbing systems including PVC, metal, and plastic.
You can use Instant Power in your bathroom sink, tub, shower, or toilet. It can also be used for kitchen sinks and any other plumbing clog you may have. This is a non-acid formula that is up to 20 times stronger than the average drain cleaner. Not only does it get rid of hair and grease, but it will also loosen stubborn clogs from food and other gunky debris.
The only drawback to this option is that it does not work as quickly as our top pick. In this case, you will need to leave the Instant Power in the drain overnight for it to be effective. Otherwise, this is a great choice for a lower price.
Pros
Effective
Non-acid formula
Uses heat to remove grease in hair
Won't harm your plumbing system
Versatile use
Cons
Needs to be left overnight
---
3.

Professor Amos SuperFast Drain Cleaner — Premium Choice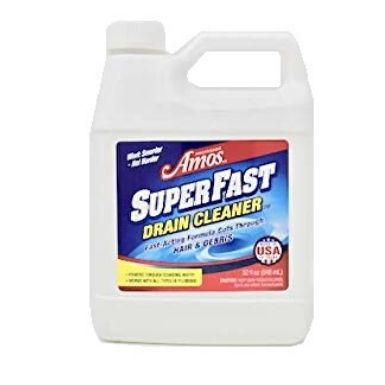 If you have stubborn clogs that won't quit, and you don't mind spending a little bit more money, the Professor Amos Superfast Drain Cleaner is for you. This brand comes in a 32-ounce, 2-pack that will do 8 to 12 treatments to dissolve grease, hair, and food debris. You can also use this cleaner as preventative maintenance, so you will not get any blocks in the future.
Safe to use on metal, PVC, or plastic pipes, the Professor Amos is a commercial strength brand. It is safe to use, has low odor, and will also help clear slow drains. You can use the formula in your sinks, showers, tubs, toilets, and any other area that has a backup. This option is septic tank safe, as well.
Made in the USA, this is a great drain cleaner if you have any deep-rooted blockages. It is great for older homes that have aging piping or newer homes where you want to prevent future clogs. Although it's more expensive, it is a great option to have.
Pros
Effective
Safe for all plumbing systems
Versatile used
Can be used for preventative maintenance
---
4.

XIONLAB Safer Drain Clog Remover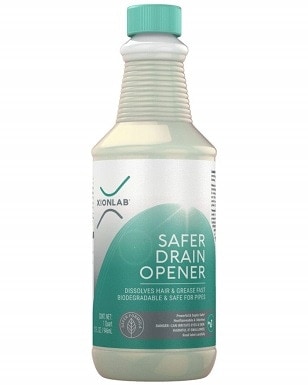 The XIONLAB XL01 Safer Drain Clog Remover is an industrial-strength formula that gets rid of hair, grease, odors, and any clogs that may slow down your plumbing system. This is a septic-safe brand that is odorless, biodegradable, and effective.
Available in a 32-ounce bottle, the XIONLAB can be used in your bathroom sinks, tubs, showers, or other drains. You should note, however, that you will not be able to use this option in the toilet. Beyond that, this is a safe cleaner that is non-flammable and safe for all piping materials. It comes in a recycled plastic container, plus it is non-corrosive.
Made in the USA, you should be aware that the drain clog remover is better for your bathroom plumbing as it does not remove any food particles or paper. Beyond that, though, this is a fast working and effective option.
Pros
Effective
Non-flammable and biodegradable
Septic safe
Safe for your piping system
Odorless
Cons
Not recommended for kitchen sinks
Not recommended for the toilet
---
5.

Bioda BEB-00013 Drain Cleaner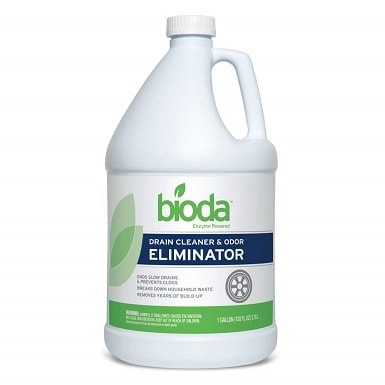 If you need a drain cleaner that is not only going to release clogs but also eliminates tough odors, the Bioda BEB-00013 Drain Cleaner is a good option for you. Available in a one-gallon jug, this enzyme-attacking formula will clear your plumbing of odors, hair, and other junk.
You will also find that there is no mess, fumes, or splashing with this option. It is safe for your piping and septic system, plus there are no harsh chemicals. Unfortunately, be advised that this formula is better for fighting odors versus oils and grease. The cleaner is not as effective at removing bigger particles or large amounts of hair, either.
Also, you should know that the Bioda is better for your sinks, and it is not recommended to be used in your toilet. On a brighter note, you will not find any bleach or caustic ingredients, and you can use it in your RV and on your garbage disposal. Finally, know that this product takes longer to work than other options.
Pros
Effective on grease and smaller clogs
No bleach or caustic ingredients
Can be used in RVs in garbage disposals
Odorless
Cons
Not recommended for toilets
Not as effective on larger particles clubs
Takes longer to be effective
---
6.

Liquid-Plumr Full Clog Destroyer
The Liquid-Plumr 44600-00221 Full Clog Destroyer comes in a 32-ounce, two-pack option. This is a three-fold product that unclogs, protects, and prevents clogs in your plumbing system. This drain cleaner will be able to relieve slow drains, clogs, and odors. The only drawback is that it is not as effective with deeper obstructions.
This is a good formula for cutting through standing water if you have a fully clogged shower, tub, or sink. It is not recommended that you use this option on your toilet, although it is safe for your pipes and septic tank. What's more, you will need to wait a bit longer for this formula to take effect.
The Liquid-Plumr also has a stronger odor than other options. You should open windows and doors to allow ventilation when you are using the liquid. Otherwise, this is a good product for relieving slow drains or for preventative maintenance.
Pros
Septic tank safe
Use with standing water
Can be used for preventative maintenance
Cons
Not for deeper clogs
Not recommended for toilets
Stronger fumes
Takes longer to work
---
7.

AmazonCommercial Drain Cleaner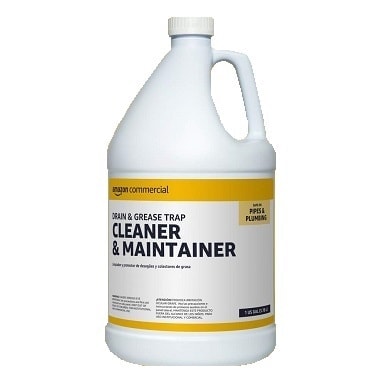 The AmazonCommercial PBH-342711 Drain Cleaner comes in a one-gallon bottle that removes grease, hair, and other particles that can get stuck in your plumbing. This is a great option for RVs, garbage disposals, or grease traps. Unfortunately, it is not as effective as a deeper cleaner for your sinks, tubs, or showers. Also, we do not recommend that you use this in your toilet.
The AmazonCommercial cleaner does not have any bleach, caustic ingredients, or acids that could corrode your pipes or damage your septic system. It has a summer breeze scent, although, the fragrance mixes in with the natural chemical smell of the cleaner which creates a very strong odor that can be off-putting.
You want to note that this particular formula takes a while to work. It is also not effective at eliminating hair from your plumbing system; which, unfortunately, is the most common cause of a backup. On a brighter note, you will notice a reduction of odors in your sinks and drains.
Pros
Good for RVs and garbage disposals
No damaging ingredients
Safe for your pipes and septic system
Cons
Strong odor
Not recommended for tougher clogs
Not as effective on hair
---
8.

Flo-Kem Flo-Zyme Drain Opener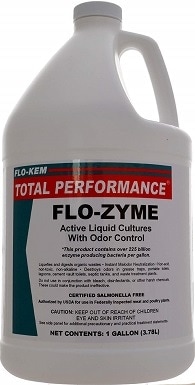 The Flo-Kem 5195 Flo-Zyme Drain Opener is a bio enzyme formula meant to remove tough and stubborn clogs in your plumbing system. It breaks down grease, fats, oils, and other potential blocks that cause your drains to slow down or stop altogether.
The Flo-Kem is available in a one-gallon bottle. Unfortunately, this option is not as effective, in general, as our other reviews. It takes longer to work and does not have the odor-fighting ability that is advertised. What's worse, the odor of the formula itself is quite strong and chemical-like.
On the other hand, this option is safe for your septic system and designed to be used on PVC, plastic, or metal pipes. You can also use this as a preventative maintenance treatment on your showers, tubs, sinks, and other drains. Nevertheless, it does take a considerable amount of time before you see any type of improvement.
Pros
Safe for your septic system and piping
Can be used as preventative maintenance
Versatile use
Cons
Not as effective
Strong odor
Slower to work
It does not fight odors
---
9.

Liquid Lightning Sulfuric Acid Drain Cleaner
Our number nine pick is the Liquid Lightning Sulfuric Acid Drain Cleaner. As noted in the name, this formula contains acid that can be damaging to your pipes and septic system. This brand comes in a 32-ounce bottle and is meant to remove clogs that consist of grease, hair, oils, and fats. Unfortunately, the cleaner is not effective with any food particles or paper, plus we do not recommend you use this in your toilet.
You can use this option in your showers, tubs, and kitchen sinks, although it takes longer to work. The Liquid Lightning is also only effective if the block is fairly close to the surface and not a considerable blockage. What's more, you should note that this option does not work with standing water, plus the general effectiveness takes longer. To end on a brighter note, however, it is effective at reducing odors.
Pros
Remove surface clogs of grease and oils.
Versatile use
Cons
Not as effective
Can be corrosive to your pipes and septic system
Cannot be used in standing water
Strong fumes
Not recommended for the toilet
---
10.

Earthworm Drain Cleaner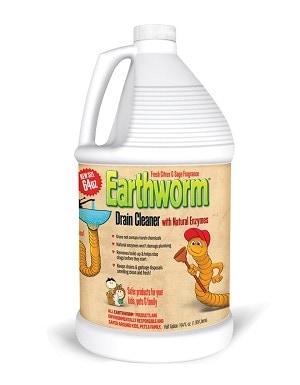 Our final pick is the Earthworm Drain Cleaner. This 64-fluid ounce bottle is a natural cleaner that is meant to deodorize your drains and plumbing system. It is safe to use on all pipes and your septic system. However, the ability to remove clogs from hair, grease, food, etc., is very limited.
Although the Earthworm cleaner has a citrus and sage fragrance, it does not mix well with the chemical fumes. That being said, the odor is not overpowering. Also, the enzymes do not break down debris as they should. When the formula is effective, it takes a considerable amount of time before you see results.
Be advised that this is not the best option for toilets or outside plumbing systems such as RVs and garbage disposals. You are better off using this product on a simple kitchen or bathroom sink. Overall, this is our least favorite option for a liquid drain cleaner.
Pros
Safe for piping and septic systems
Low fumes
Cons
Not effective at deep clogs
Recommended for sinks only
Not recommended for toilets
Takes a long time to work
Does not remove odors
Does not work with hair or food particles
---
Buyer's Guide – Purchasing the Best Liquid Drain Cleaner
Shopping Tips
When it comes to a clog in your shower or kitchen sink, you don't want to mess around with formulas that are not going to be effective. Not only is it inconvenient, but it can also require a professional service call that can be expensive.
Let's take a look at a few factors you should consider when picking out a liquid drain cleaner:
Clog: The most common clog is due to hair buildup in your drains. That being said, issues with your kitchen sink can be due to grease, oil, or food particles. Depending on where the blockage occurs can make a difference in the product that you choose. Make sure you are picking one that has effective power at fighting whatever is keeping your drains from flowing smoothly.
Odors: Some liquid drain cleaner formulas can release a significant amount of fumes. They can be difficult for anyone with respiratory illnesses or deficiencies. If you do need one of these options that have a stronger odor, make sure that you are ventilating the area as much as possible by opening windows and wearing masks to protect yourself.
Maintenance: If you live in an older home with an aging plumbing system, preventative maintenance cleaners are important to keep build-ups and clogs from developing in the first place. If you have this problem, look for a product that gives you the dual power of an unclogging cleaner, plus a maintenance treatment.
Effectiveness: It goes without saying that you want a drain cleaner that is effective. With that being said, you also want to find a product that is going to work quickly. If you can leave the liquid overnight or for 24 hours, you can choose an option that does not work as rapidly. On the other hand, if you are having a get-together or are in a situation where the drainage cannot wait that long, find a formula that will work quickly.
Safety: Safety is another important aspect when it comes to your liquid drain cleaner for both you and your pipes. Many brands use caustic formulas that can damage your pipes and cause expensive repairs. Make sure you find an option that is safe for all types of plumbing systems as you might have different piping materials that you are not aware you have.
What Makes a Good Liquid Drain Cleaner?
In general, when this question is asked, the most common answer is an effective one. Well, although that is true, other factors also indicate a good product in this category. Let's take a look at a few of these features:
A Penetrating Formula: Drain cleaners that can fight all types of clogs including hair, grease, food, paper, etc., are typically the best, as they are able to eliminate any obstructions that may come your way.
Clog Location: Another issue that many homeowners face when it comes to drain cleaners is the level of their clogs. Some brands will only be able to eliminate surface clogs while others work at blocks that are deeper in your system.
Fumes: Although we mentioned this above, some products have toxic chemical smells that can be a big issue for many people. The brands that have a low odor and a non-splash formula are sometimes taken for granted.
Standing Water: Another feature that often falls below the radar is a liquid cleaner's ability to penetrate standing water. In some cases, you will need to remove the water that is in the sink or tub before you can use the product. A cleaner that can make its way through the water to the blockage is a perk you do not want to miss out on.
Versatility: Finally, versatility in your liquid drain cleaner is important. You never know where a block may show up, so you want to be able to use your product in any location, whether it is the bathroom sink, toilet, tub, or garbage disposal.
Is your shower not draining correctly? If so, take a look at our reviews on the best shower drain cleaners and get your plumbing system back in shape.

Conclusion
We get that any given person can come up with 10 plumbing jokes off the top of their head, however, plumbing issues in real life are nothing fun. We hope that the reviews above have helped you narrow it down to the best liquid drain cleaner available. If it has helped you eliminate or prevent one clogged sink, it is a win in our book!
If you are looking for fast answers, pick up the Green Gobbler GGDIS2CH32 Drain Clog Remover. This product is going to give you the best block removing power available. If you have a clogged sink and you're on a budget, try the Instant Power 1969 Drain Opener. This will give you the most effective power for an affordable price.
See also: 8 Best Drain Cleaners for Grease
---
Featured Image Credit: BigMouse, Shutterstock
A Quick Comparison of Our Favorites in 2023
Source: https://housegrail.com/best-liquid-drain-cleaner/